STORY HIGHLIGHTS
Retired Sgt. Maury Hernandez survived a back-to-front gunshot wound to his head
Rep. Gabrielle Giffords, in critical condition after similar wound, opened her eyes Wednesday.
"She can make it. I did it. She can do it as well," Hernandez says
Hialeah, Florida (CNN) -- He walks slowly and gingerly, with a slight limp. But retired Sgt. Maury Hernandez will tell you that he's doing just fine.
"The fact that if the .45 caliber didn't kill me, then I'm alive. That I can continue to move forward," he said.
It's a miraculous statement. But Hernandez has survived a gunshot wound to his head, has defied science and can empathize with everything going on in a Tucson, Arizona, hospital as Rep. Gabrielle Giffords recovers after being shot in the head Saturday. Still in critical condition, she opened her eyes Wednesday.
"She can make it. I did it. She can do it as well," he told CNN Medical Correspondent Elizabeth Cohen.
"You have to think positive. You're going to be thrown curveballs, and you might not be as healthy as you were yesterday, but you have to think positively, and you have to march on," he said.
One day in August 2007, Hernandez was driving to work as a deputy with the Broward County Sheriff's Office. He saw a motorcyclist run several red lights. He pulled the man over.
The man pushed him and ran, and then turned and fired a gun at the pursuing Hernandez. The first shot missed, and as Hernandez turned away in defense, a second shot struck him in the back right side of his head.
"After the flash of the gun, the first thing I remember was waking up from the coma in the hospital," he said.
That was 19 days later. Doctors had placed him in a medically induced coma to help him survive. They removed the bullet, which they say entered his head and turned and tumbled, destroying brain tissue.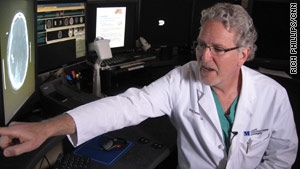 Dr. Greg Zorman cautions that all gunshot wounds to the brain are different.
"I was pessimistic," said Dr. Greg Zorman, chief of neurosurgery for Memorial Healthcare System in Hollywood, Florida.
"Not only did he survive, but he did very well."
But Zorman cautions that all gunshot wounds to the brain are different, and if they cross the center of the brain, there may be little hope for meaningful survival.
Gupta: What helped Giffords survive brain shot
In Hernandez's case and that of Giffords, it appears that the bullet entered and remained on one side of the brain.
"If it stays on one side or the other, then survival is possible, and sometimes recovery is possible," he added.
Zorman says the speed of the bullet is an important factor.
"How fast the bullet is coming out of the gun ... that's the amount of energy that's delivered to the target," he said.
"The more energy delivered to the target, the more devastating the wound," he explained.
Zorman calls Hernandez an amazing guy.
"Some people would say it's because it was just meant to be. Good care. Great patient. Great family. And it was meant to be," he said.
Hernandez is almost 3½ years removed from his tragic shooting. The perpetrator was caught, convicted and sentenced to life in prison.
Today, Hernandez is in physical and occupational therapy five days a week and says he's been making steady progress but still can't run. He has trouble using his left hand.
"You're not exactly where you used to be, but that pushes me a little more to get me back to where I used to be," he said.
He's currently retired from the Sheriff's Office, but he hopes that one day he'll be able to un-retire.
Hernandez says he was surrounded by a loving, positive family that helped him in his recovery. He says Giffords' family will also play a huge role.
"Things will look a little grim," he said. "They will play a tremendous role in her rehabilitation. I would tell them not to give up. ... The support's got to be there," he added.
But one of the most important things the congresswoman will have to avoid, Hernandez says, is negativity.
"There's going to be a lot of people that are gonna look at her and say, 'You're not going to be able to do this, and you're not going to be able to do that. Ever,' " he cautioned.
"I would tell her not to listen to that. To listen to herself and listen to her heart, and let that guide her way. If she does that, she's going to be OK."
FOLLOW THIS TOPIC