2 men accused of plotting to kill Saudi ambassador indicted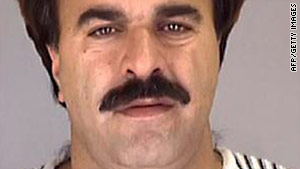 An arraigment for Manssor Arbabsiar, 56, is scheduled for October 24. He was arrested last week.
STORY HIGHLIGHTS
An arraignment is scheduled for October 24 for one of the men indicted
The other -- an alleged member of Iran's Quds force -- remains at large
They are accused of plotting the killing of a Saudi envoy on U.S. soil
(CNN) -- Two men implicated in an alleged Iranian plot to assassinate Saudi Arabia's ambassador to the United States have been indicted, the Manhattan U.S. attorney's office said Thursday.
An arraignment for Manssor Arbabsiar is scheduled for at 10:45 a.m. October 24 before U.S. District Judge John Keenan in New York. His co-defendant, Gholam Shakuri, remains at large, according to U.S. Attorney Preet Bahara.
U.S. officials arrested Arbabsiar, 56, last week on suspicion that he conspired with Shakuri, allegedly an Iran-based member of the Islamic Revolutionary Guard Corps, to hire hit men from a Mexican drug cartel to set off a bomb at a restaurant to be visited by Adel Al-Jubeir, the Saudi ambassador.
The Iranian Foreign Ministry has said the assassination-for-hire accusations are baseless.
U.S. authorities have accused Iran of being involved in the plot to kill Al-Jubeir in spring 2012.
The alleged scheme involved a connection to the Quds Force, a branch of the Islamic Revolutionary Guard.
Authorities developed the case against the suspects with the help of an undercover informant posing as an associate of a Mexican drug cartel, according to officials and an FBI agent's affidavit released last week.
Arbabsiar and the informant allegedly discussed using explosives to kill the ambassador, possibly in a crowded restaurant, according to the affidavit.
The informant named $1.5 million as his price, it said. Arbabsiar allegedly sent $100,000 intended as a down payment, telling the informant his "cousin" had deep pockets, court documents said.
According to the five-count indictment, Arbabsiar wired money to an undercover bank account maintained by the FBI. In the spring, Shakuri provided money to Arbabsiar for expenses, it contends.
Arbabsiar was arrested in September. David Tomscha, a friend of Arbabsiar in Corpus Christi, Texas, said the man traveled to Iran once a year and owns property in Iran.
Both defendants are charged with conspiracy to murder a foreign official; conspiracy to engage in foreign travel and use of interstate and foreign commerce facilities in the commission of murder-for-hire; conspiracy to use a weapon of mass destruction (explosives); and conspiracy to commit an act of international terrorism transcending national boundaries.
Arbabsiar is further charged with an additional count of foreign travel and use of interstate and foreign commerce facilities in the commission of murder-for-hire, prosecutors said.
From CNN's Jim Barnett