STORY HIGHLIGHTS
Interrupters are ex-hustlers and ex-thugs who tap old street connections to head off violence
Study: Each gunshot wound costs society $1 million, and the ensuing fear is crippling
Epidemiologist who tackled AIDS, cholera in Africa says violence spreads like disease
'I'm on some different s**t ... you better get on what I'm on,' Tard Carter tells kids
(CNN) -- Tard Carter got a call from the ticked-off young hustler in the middle of the day. A rival, the hustler explained, had been telling folks the hustler was a snitch, and he was ready to take care of it.
In the hoods of East Baltimore, that often means one thing, and Carter knows this well. He offered to accompany the hustler, who we'll call John. Carter can't provide his real name for professional reasons.
"He called me, said he was gonna ask dude why," Carter said of the September 10 incident. "I went with him to make sure he was all right."
Carter, 34, is a so-called violence interrupter, part of Baltimore's Operation Safe Streets, one of several programs around the world that employ ex-outlaws to intercede in potentially violent situations.
A felon who has been locked up three times on gun or drug charges, Carter acts as outreach worker -- hence the need for John's anonymity. Carter taps his past life to gather intelligence on gang and drug beefs.
He appeals to youngsters by talking firsthand about slinging smack and crack, about slain street legends he once ran with, about hip-hop verses he spits as Kobra Kammanda and about how he hates crooked cops and feds.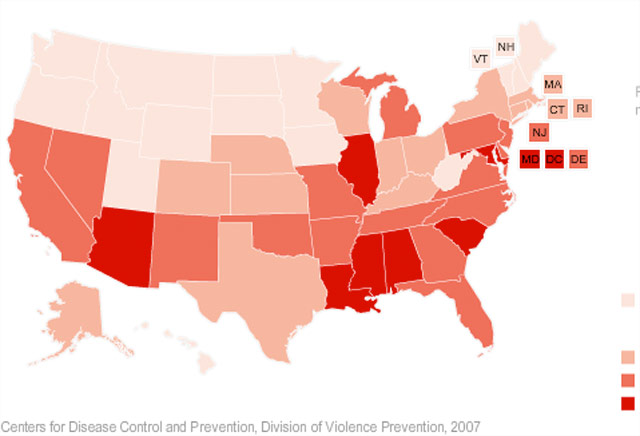 Homicide rate by state, ages 10-24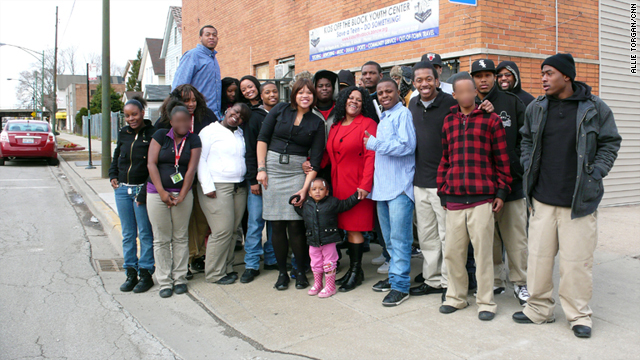 CNN Hero: Diane Latiker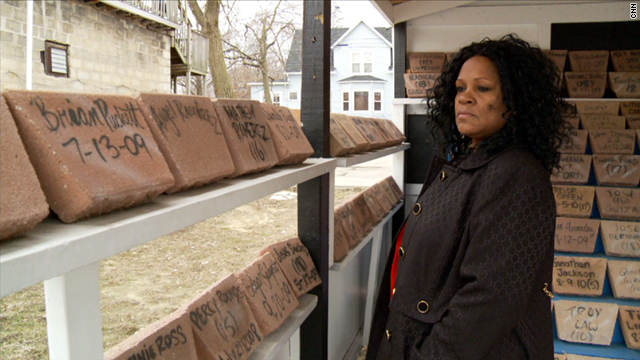 Web Extra: CNN Hero Diane Latiker

Philadelphia DJ helps teens
"My credibility is real, man. This ain't no fake s**t," he said. "The rowdiest of the rowdiest respect my mind right here, the cruddiest of the cruddiest."
'Violence is reciprocal'
Carter kept watch from down the street as John and his rival talked privately. He immediately didn't like their body language. Soon, they were arguing. A punch was thrown. Carter saw John lift the front of his shirt.
"I was like, hell naw," Carter said, darting toward the scuffle. "(John) pulled out the (gun) but only had three bullets."
As he reached the two, Carter heard the hammer hit the three empty chambers.
Click. Click. Click.
Carter grabbed John before he could pull the trigger a fourth time.
"I was like, 'Hey, stop. Chill. You don't wanna do that,' " Carter said as the rival took off running. "It was wide open in front of the whole motherf**king 'hood."
Carter let John have it.
"What the f**k was you thinking about?" he asked him. "Rage will have you doing all kinds of s**t. Rage will have you waking up in central booking with a motherf**king body."
A "body" -- or murder rap, in street vernacular -- was avoided that day, but according to experts advocating this interventionist approach to violent crime, the benefits of Carter's intercession were many.
See the rate of murder raps in your state
"Violence is reciprocal. Stopping one homicide through mediation could buy you peace for months down the road," said professor Daniel Webster, co-director of the Johns Hopkins Center for Gun Policy and Research.
With the help of Safe Streets' interrupters, juvenile involvement in homicides has been on a downward trajectory the last three years. It also helps that Baltimore's police have put more emphasis on gun crime than on street-level drug sales and possession, Webster said.
"Weapons make violence more deadly and less personal," the Baltimore police website says.
This certainly isn't news in Chicago. According to media reports, the city has tallied more than 300 murder victims so far this year, at least 43 of whom were younger than 19. Of those, 36 were shot, according to media reports.
"We are losing a generation to violence," said Diane Latiker, a Chicago resident and one of the top 10 CNN Heroes of 2011.
Surrounded by gang violence in her neighborhood, Latiker opened her Roseland home to area youth and started a program called Kids Off the Block. Like Carter in Baltimore, Latiker takes a proactive approach to curbing street violence, engaging the kids in dialogue about their dilemmas rather than vilifying or ostracizing them.
A look at the number of people murdered in the U.S. and how many were 18 or younger (in parentheses):

2006 -- 7,285 (782)

2007 -- 7,069 (768)

2008 -- 6,940 (774)

2009 -- 6,631 (671)

2010 -- 6,284 (665)

Source: FBI
"Our young people need help," she said earlier this year. "All of them are not gangbangers. All of them are not dropouts. But the ones that are, they need our help. Somehow or another, something ain't right here. And why don't we ask them about it?"
Treating murder like disease
Finding an answer is important to more than just victims. A University of Chicago study published in 2009 said that in addition to societal costs that can reach about $1 million per gunshot wound (the figure includes everything from hospital treatment to extra policing to private security to prison construction), the fear that permeates a community is crippling.
Take, for instance, what one mother told the study's researchers: "We have to drive our kids everywhere. We can't go to work full time because we worry about how are our kids going to get to and from school? ... We can't send one 15-year-old girl down to the corner store three houses down from ours because there are too many kids hanging around on the corner. There are grown men hanging on the corner. We know they're packing. We know they're selling."
Along with a police force that, like Baltimore's, takes gun possession seriously, the Windy City can boast it was the first to explore the use of violence interrupters.
CeaseFire Chicago, the program on which Operation Safe Streets and others are modeled, is the brainchild of University of Illinois at Chicago epidemiologist Gary Slutkin.
Before founding CeaseFire in 1995, his work involved stemming the spread of disease -- tuberculosis in San Francisco, cholera in Somalia, AIDS in Uganda -- and he realized that violence infects communities in much the same way as disease. Rather than dirty water or unsafe sex, however, you're dealing with decrepit educational systems and a lack of economic opportunity.
Perhaps Carter, the interrupter, can break it down: "Poverty leads to frustration leads to unwise decision making."
Poverty means no money means no food, he said. If you can't eat breakfast, you can't concentrate in school. If you don't make good grades, you can't get a job, which means you have to find other ways to support yourself.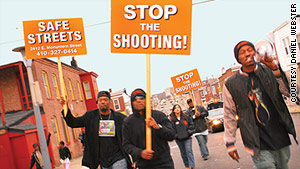 Tard Carter, right, leads a rally after a shooting in Baltimore.
"When I was young, you had a fantasy of being a drug lord -- not a dream, a fantasy," he said.
Many kids look up to drug dealers, despite their spurious status as role models, Carter said, and they're so young when they get caught up in the drug game, they don't realize they're being used because their status as juveniles means they won't face the same consequences as an adult.
Carter tells kids that the drug lords want to keep them "at the bottom ... stagnated" because all they are is a means to an end.
"Ain't nobody telling you how to be a man. They want you to stay a fool," Carter said.
The 'fresh prism' of interrupting
Author Alex Kotlowitz, who co-produced the documentary on CeaseFire's conflict mediators -- appropriately dubbed "The Interrupters" -- said many observers make the mistake of believing these kids are unreachable, too hardened by the crime and violence surrounding them.
Kotlowitz made the same mistake in the mid-1980s when he was working on his award-winning book, "There Are No Children Here." Crack was just beginning to earn its reputation in Chicago, and Kotlowitz remembered how Lafeyette, one of the subjects of his book, told him with no affect how a man had been shot in his building's stairwell.
He was so matter-of-fact, Kotlowitz didn't believe him. Lafeyette took him by the hand to show him the bloodstains on the steps.
Kotlowitz noticed Lafeyette wasn't the only child who seemed to find violence unremarkable -- "They'd talk about it as they had watched a basketball game the night before" -- but he soon realized it was a defense mechanism.
Like vets returning from combat, the kids showed signs of PTSD: Some were hyperactive, others depressed. Many complained they had trouble sleeping or experienced flashbacks, said Kotlowitz. Lafeyette's little brother, Pharoah, had a stutter that would worsen when gunfire erupted outside.
The CeaseFire model and the interrupters offer a "fresh prism" through which to view the problems associated with gun violence, Kotlowitz said.
In 2008, the U.S. Justice Department evaluated the effectiveness of CeaseFire's methods in several Chicago neighborhoods. Shootings were down the following percentages:

• Auburn/Gresham -- 17%

• Englewood -- 34%

• Logan Square -- 22%

• Southwest -- 24-27%

• West Garfield Park -- 23-24%

• West Humboldt Park -- 16%

Source: CeaseFire Chicago
The model appears to work where it is being used. A 2008 Justice Department evaluation showed shootings down in six neighborhoods where CeaseFire operated. Gang-related and reciprocal homicides were down in some communities, too.
See some of the results with links to original reports
The approach has been borrowed in several U.S. cities, including Phoenix, New Orleans, Brooklyn and East St. Louis, Illinois. Internationally, Basra, Iraq, and London, along with cities in South Africa and Trinidad and Tobago, have adopted the method.
"It becomes not about good and bad people, but about behavior," Kotlowitz said. "Our answer has been to throw more police and lock more people up for a longer time. I think -- I hope -- we realize that hasn't worked."
'In these communities, the American dream is fiction'
In Uganda, Kotlowitz said, sex workers helped convince people to change their sexual behavior. In Somalia, it was about identifying the dirty water sources and educating people to stay hydrated if they came down with diarrhea.
Once you change the behavior that spreads the disease, you can address the issues that caused it, Kotlowitz said, explaining Slutkin's assertion that "until you diminish the violence, the grass won't grow."
Kotlowitz himself believes inner-city violence and poverty are interwoven, that you must address the dearth of businesses, jobs and investment in education and housing -- essentially, the lack of opportunity -- in tandem with efforts to make the streets less deadly.
"In these communities, the American dream is a fiction, and we have to find a way to address that," he said.
Convincing kids they don't want to kill each other -- even in the most violent neighborhoods -- is not as tricky as it seems.
As Latiker shows us in Roseland, one of Chicago's most violent neighborhoods, simply opening your door to them, or offering food, tutoring or a place to talk, can help.
"We've had six gangs in my living room at one time," she said, "but that was the safe place. And you know what? They respected that."
It can get trickier when a youngster is hell-bent on avenging a cousin's slaying or retaliating over a drug deal gone awry, but Johns Hopkins' Webster said many kids put up fronts.
"As tough as these guys are and want to boast about their ability and willingness to take somebody out, they actually don't want to kill someone," he said.
If you can get young people through the rocky period of their teens and early 20s, they often settle themselves down.
--Daniel Webster, co-director, Johns Hopkins Center for Gun Policy and Research
Interrupters appeal to their human side. If someone wants to avenge a dead brother, an interrupter might explain they're making matters worse if they get locked up or killed: "Your mother just lost a son. If you do this, she will lose two," Webster said, offering hypothetical counsel.
If a drug dealer was robbed or hasn't gotten his or her money, an interrupter might work out a payment plan.
Many times, though, people are killed over something petty -- a funny look, a misunderstanding or a perceived "dis" in an environment where respect means everything. Things spin out of control, and "if you can slow it down, let everyone get their wits about them," an amicable solution is more likely, Webster said.
Webster realizes there is controversy in overlooking gang activity and drug crimes in the name of stopping violence, but he likens it to needle exchange programs that ignore the scourge of drug use to stop the transmission of diseases.
About 4,000 kids have been murdered since 2006, according to FBI statistics. Webster and others consider this a public health initiative requiring a harm-reduction strategy (indeed, Operations Safe Streets is run out of Baltimore's Health Department).
"If you can get young people through the rocky period of their teens and early 20s, they often settle themselves down," he said.
Carter, who has two daughters, 14 and 4, and a son, 9, said he is a case in point.
"At the age of 34, within the last five or six years, I'm really learning what it is to be a man," he said. "I tell (the kids): 'I'm a changed man. I'm on some different s**t, and you better get on what I'm on.' I'm ready to die to make this a better place."