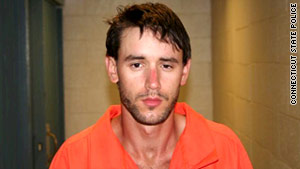 Joshua Komisarjevsky's trial for his alleged involvement in the 2007 killings begins on Monday.
STORY HIGHLIGHTS
NEW: A juror in the first suspect's trial calls the incident "the perfect storm of evil"
Joshua Komisarjevsky's trial starts Monday in a case that left a mother, 2 daughters dead
His alleged accomplice has been tried and in December was sentenced to death
Authorities say Komisarjevsky wrote: "I am damned. ... I can't believe I lost control"
New Haven, Connecticut (CNN) -- A close friend of a woman who was killed -- along with her two daughters -- during a 2007 home invasion said she hopes that an upcoming trial gives a feeling of peace and justice for residents of the quiet Connecticut town where the incident occurred.
"I don't think we'll ever have closure, but I think when these trials finally come to an end, hopefully there will be a sense that justice has been served for Jennifer and these girls," Marilyn Bartoli told CNN on Sunday evening.
Jennifer Hawke-Petit and her daughters -- 17-year-old Hayley Petit and 11-year-old Michaela Petit -- died in the July 23, 2007, invasion of their Cheshire, Connecticut, home. Dr. William Petit, Hawke-Petit's husband and the girls' father, was beaten and tied up at the beginning of the attack before he managed to escape.
In December, Steven Hayes was sentenced to death after being convicted on 16 of 17 charges related to the killings.
Hayes forced Hawke-Petit to go to a bank and withdraw $15,000 from an account after finding evidence the account held between $20,000 and $30,000, authorities said.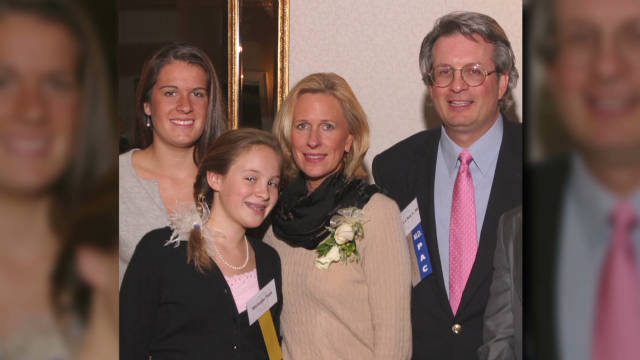 Jurors recall horrific trial
On Monday, the trial begins for his alleged accomplice, Joshua Komisarjevsky. Prosecutors allege that the two went into the home, beat and tied up Petit, raped and strangled his wife, molested one of their daughters, then set their house on fire before attempting to flee.
The two daughters -- both of whom had been tied to their beds -- died of smoke inhalation. William Petit escaped to a neighbor's home.
Bartoli said the case has rattled those in Cheshire, a community of just over 29,000 people between Hartford and New Haven, especially the many who knew the Petit family.
"It's just a small town, good people helping their neighbors," said Bartoli, who met Hawke-Petit through Bartoli's son's school. "(We) never dreamed anything like this would come into our community. The devil walked there that night, and it's changed all of our lives."
According to motions filed with the New Haven Superior Court, Judge Jon C. Blue denied requests from defense attorneys to move the trial to a different court and to limit testimony from Petit, the home invasion's only survivor.
Petit will handle testifying, Bartoli predicted Sunday, "with the same grace and courage that he's demonstrated throughout."
"It's been a very long road for him, for all of us who loved Jen and the girls and the Petit family," she said. "This is the last lap ... to go, and I'm sure he'll handle it superbly."
In March, Komisarjevsky's attorneys filed a motion for the court to accept a guilty plea on the condition that he would be spared the death penalty. That motion was denied, according to a ruling filed in the New Haven Superior Court.
During Hayes' trial, a court clerk read from writings of Komisarjevsky, in which he described the incident in a 40-page letter that he wrote to author Brian McDonald in 2008.
"All were compliant," he wrote. "This time I took a risk, pulled the trigger, and the chamber was loaded. ... The Petit family passed through their fears and into terror.
"... It was captivating, validating that this pain in me was real. ... I was looking right at my personal demon, reflected back in their eyes. ... Hayley is a fighter; she tried time and time again to free herself. ... Mr. Petit is a coward; he ran away when he thought his life was threatened, and ran away to leave his wife and children to madmen. ... I was cheated of my retribution, and so was Steve. ... I am what I am; I make no excuses. ... I'm a criminal with a criminal mind."
The reading continued, "Michaela, Hayley, and Jennifer, forgive me; I am damned. ... I can't believe I lost control; I hate myself/I love myself. ... I stand condemned."
Maico Cardona, a juror during Hayes' trial, said that he interpreted those words as showing that Komisarjevsky "knew exactly what he was doing (and) he liked it."
Like Cardona, Paula Calzetta sat on the jury for that first trial -- describing the testimony as "painful" and something that "stays with you." Even then, she said that she plans to relive it all by being in New Haven for opening statements Monday morning -- though her opinion of what happened that night is clear.
"It was a perfect storm of evil," she said.
CNN's Susan Candiotti and Ross Levitt contributed to this report.