STORY HIGHLIGHTS
NEW: Cindy Anthony says her daughter, Casey Anthony, suffered seizures
Dr. Phil McGraw conducts an interview with George and Cindy Anthony
George Anthony says his daughter "continued to lie" after being taken into custody in 2008
The skeletal remains of young Caylee Anthony were found in December 2008 in Orlando
(CNN) -- George and Cindy Anthony still have questions about their granddaughter Caylee's death, the couple said in an interview -- but not that the child's mother, their daughter Casey, "continued to lie" after the girl disappeared.
The couple's comments, their first since Casey Anthony was cleared on murder charges in July, were made in an interview with Dr. Phil McGraw. The interview began airing Tuesday on the syndicated "Dr. Phil" program, and will continue into Wednesday's show.
Cindy Anthony was visibly emotional when McGraw asked about calls she'd made to police and about Casey being taken into custody for the first time on July 15, 2008. The parents acknowledged that their daughter wasn't honest with them about the whereabouts of 2-year-old Caylee, who at that time hadn't been seen in some 30 days.
"She continued to lie," George Anthony told McGraw.
The girl's skeletal remains were found December 11, 2008, in woods less than a mile from the Anthonys' home.
While Casey Anthony wasn't convicted of murder, a Florida jury did find her guilty on four misdemeanor counts of lying to authorities about the case.
"The last one I saw Caylee with was Casey," said George Anthony. "She's responsible for Caylee. That was her daughter."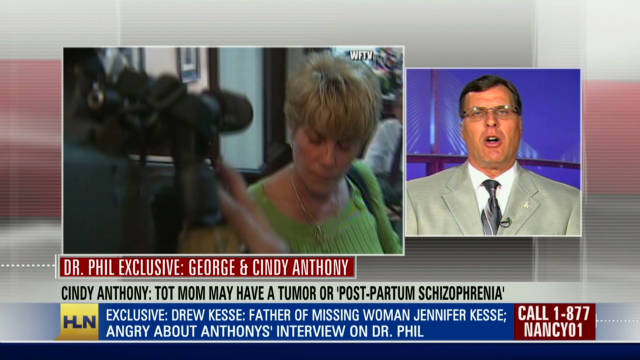 Missing FL woman's dad mad at Anthonys
At one point in the interview, Cindy Anthony dismissed claims -- made by her daughter's defense attorney during the recent trial -- that her husband knew about the toddler's death from the moment she died.
"George would never have put us through those six months of not knowing where Caylee was, if he knew where Caylee was," she said. "Because I watched his heart break every single day. And I watched him, as frantic as he was."
In his opening statement, defense attorney Jose Baez claimed Casey behaved as she did because years of sexual abuse by her father had conditioned her to conceal the truth and hide her pain. George Anthony has denied that he abused his daughter, and Orange County Chief Judge Belvin Perry Jr. later ruled the claim could not be raised again because "no facts in evidence or reasonable inferences" pointed to such a conclusion.
Cindy Anthony told McGraw that, "when it came to his family," she never once doubted her husband.
George and Cindy Anthony also were queried about an odor that reportedly emanated from the trunk of Casey Anthony's car -- an odor that prosecutors had claimed resulted from Caylee's body being stored there, before being discarded.
Cindy Anthony told McGraw that "truthfully, to this day, I don't know" what the smell was or if the girl's body had been in the trunk.
Her husband, George, added, "Do I want to believe that Caylee was back there? I don't want to believe it. But I'm going by what investigators have told me. All I know is that Caylee's not with us anymore, I know that. I know that."
At another point in the interview, Cindy Anthony said that her daughter has a history of seizures. Casey Anthony had a grand mal seizure in 2007 and another after she was released from custody for the first time, according to her mother.
Cindy Anthony said that she noticed changes in her daughter around the time Caylee was born and wondered whether something physical could have contributed to her odd behavior.
"I don't know if she (Casey Anthony) had a seizure that day and blacked out. I don't know what happened. ... I'm not making justifications for that, but there's a cause for those. You don't just have a grand mal seizure," Cindy Anthony said.
At another point, she speculated her daughter could have a brain tumor, or suffer from "postpartum schizophrenia."
McGraw also questioned Cindy Anthony about a posting she put up July 3, 2008 -- 12 days before Casey was first questioned -- on her MySpace page titled, "my caylee is missing." In it, she wrote that Caylee "came into my life unexspectedly, just as she left me ... Jealousy has taken her away, jealousy from the one person that should be thankful for all the love and support given to her."
Cindy Anthony explained to McGraw that "Caylee was missing in my heart that day," but she didn't then suspect that the young girl was "missing physically" because she thought she knew her whereabouts.
"I wanted Casey to know how much she was hurting me," she said. "And I thought she was purposefully keeping Caylee away from me."
Casey Anthony has remained out of the public spotlight since her July release from an Orange County jail. While she is on probation -- stemming from a 2010 conviction on check fraud charges -- state corrections officials have not disclosed her whereabouts, citing concerns for her safety.
In her most recent visit with her probation officer, earlier this month, Anthony said she is unemployed, had not earned any income in the previous 30 days and had not enrolled in educational or vocational classes, according to the Florida Department of Corrections. "No violations have been noted" of the provisions of Anthony's probation, which include prohibitions against illicit drug use and excessive drinking, the department said.