Federal agents charge 91 in Medicare fraud case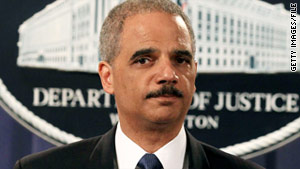 Attorney General Eric Holder trumpets the success of the Medicare fraud team, but says there is much more to do.
STORY HIGHLIGHTS
People in 8 cities, including doctors and nurses, arrested
Charges include phony schemes involving psychotherapy
Durable medical devices, home health care also targeted
Plots reaped nearly $300 million, strike force says
Washington (CNN) -- Four hundred federal agents from coast to coast swooped down on 70 alleged Medicare fraudsters for allegedly ripping off taxpayers of nearly $300 million in phony billings.
The 70 arrests Tuesday night and Wednesday morning, including doctors and nurses, come on the heels of 21 additional arrests in recent days in an operation designed to significantly dent the growing scourge of health care fraud.
"From Brooklyn to Miami to Los Angeles, the defendants allegedly treated the Medicare program like a personal piggy bank," said Assistant Attorney General Lanny Breuer.
Attorney General Eric Holder and Health and Human Services Secretary Kathleen Sebelius presided over a news conference to trumpet the success of the Medicare fraud strike force. The takedown in eight cities involved the largest amount of false Medicare billings in the history of strike force operations.
The charges in the indictments unsealed Wednesday included phony schemes involving durable medical devices and home health care that have often been the target of investigators.
But in what Sebelius termed "a new wrinkle," the charges also include schemes involving mental health services and psychotherapy.
Court documents indicate many of the defendants allegedly submitted claims to Medicare for treatments that were medically unnecessary or simply never provided.
Investigators focused heavily on the Miami area, where 46 of the 91 defendants were charged with participating in various fraud schemes.
The rest of those charged on Wednesday and previously are: 10 defendants charged in Baton Rouge, Louisiana; six in Los Angeles; three in Brooklyn, two in both Houston and Dallas; 18 in Detroit and four in Chicago.
Strike force operations were begun by the Bush administration in 2007 and have continued and been expanded under President Barack Obama. The Medicare fraud strike forces now operate in nine locations, and have so far resulted in more than 1,100 criminal charges.
"Although we can -- and should -- be encouraged by this fact; by today's announcement; and by the progress that's been achieved in recent years to identify, deter, and combat health care fraud -- we have more to do," Holder told reporters.