STORY HIGHLIGHTS
NEW: Dead woman's sister says she didn't have psychiatric issues and wouldn't harm herself
Police say all DNA and prints in the room where she died are linked to the dead woman
The woman committed suicide days after her boyfriend's son died, authorities say
The 6-year-old boy died days after police answered a 9-1-1 call at their Coronado home
(CNN) -- Police announced Friday that there is no indication of foul play in the deaths, within days of one another, of a 6-year-old boy and his father's girlfriend at the same southern California mansion.
Introducing a detailed presentation involving multiple officials, San Diego County Sheriff Bill Gore said a team of investigators has been working intently for weeks to probe the sudden deaths of Max Shacknai and Rebecca Zahau, who was dating the boy's father, Jonah Shacknai, and lived in the same house.
"Our responsibility is to answer the one very important question: Were these deaths the result of criminal conduct?" Gore told reporters. "Was Max's death a homicide? The answer is no, it was a tragic accident. Was Rebecca's death a homicide? Again, the answer is no. It was a suicide."
But Zahau's family strongly disputes that, saying the suicide conclusion doesn't make sense for multiple reasons and urging authorities to reopen the investigation.
"My sister was murdered, that's it," Snowem Horwath told HLN's Vinnie Politan. "There is no way, no way, my sister would commit suicide in such a state."
The suicide conclusion "doesn't pass the smell test," the family's attorney Anne Bremner told HLN's Jane Velez-Mitchell, saying it seems unrealistic that Zahau could have bound herself and gone to the balcony, all while nude.
Another sister, Mary Zahau, told HLN's Dr. Drew Pinsky that Rebecca Zahau had never hinted at suicide. When they talked a day before she was found dead, Mary Zahau said, Rebecca Zahau asked how to treat another sister who'd been hurt trying to clean up broken chandelier pieces related to Max's injury, but never suggested deep-rooted depression.
"My sister never had a psychiatric problem, never (had) been on psychiatric medication and never had attempted suicide -- let alone ever talked about harming herself," she said.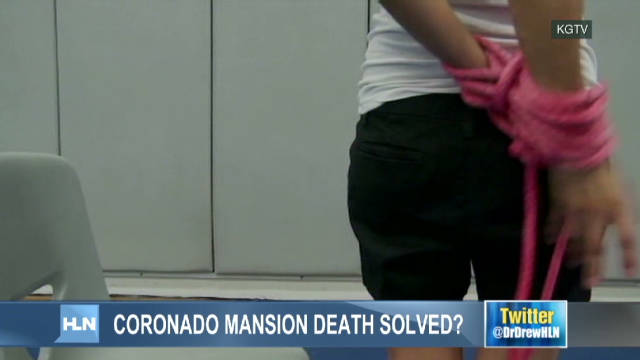 Mysterious mansion death ruled a suicide
Authorities first went to the home, in the San Diego suburb of Coronado, on July 11 after getting a call from Zahau's 13-year-old sister reporting that Max had fallen down the stairs and was not breathing, Coronado Police Commander Mike Lawton told reporters. Zahau, her sister and the boy were the only ones in the residence at the time of the incident.
Police arrived within two minutes, followed a minute later by firefighters who -- after finding the boy unconscious on the floor -- "began lifesaving measures immediately," Lawton said. But despite extensive medical treatment, Max Shacknai eventually succumbed to his injuries on July 16.
Dr. Jonathan Lucas, from the San Diego County medical examiner's office, ruled the boy's death an accident, saying he died partly due to resuscitated cardiopulmonary arrest, cervical spinal chord contusion and blunt force trauma of the head and neck.
Within that span, on July 13, authorities got another 911 call from the home. This time, it was to report that Zahau was discovered hanging naked, with her feet and hands bound behind her back, Gore said.
The autopsy concluded Zahau was "alive when she went over the (second-floor) balcony" with a long-sleeve T-shirt wrapped around her neck, Lucas said. He told reporters Friday there was no evidence of a struggle or a sexual assault, or that she was in any way rendered unconscious or incapacitated, adding that "her feet were dirty consistent with standing on the dirty balcony."
Sgt. Dave Nemeth, also with the sheriff's office, told reporters Friday that the fingerprints and DNA in the room from which she fell -- including on the bindings tied around her hands, feet and neck -- "were only from Rebecca."
He added that one witness told police that Zahau, when they met in January, had "lost weight, seemed stressed, was not sleeping well and was not exercising, which was abnormal for her." Other witnesses indicated that "Rebecca was distraught over Max's injury."
"The (investigative findings) are all compelling, and all point persuasively to a single conclusion: These deaths are not the result of any criminal acts," Gore said. "Science is our best witness in this case. Science is not biased, nor does it lie."
But Bremner, the lawyer for Zahau's family, criticized the investigation -- including the use and analysis of forensic and other evidence -- as incomplete, saying it appears "they were myopic, looking at this (as if it) has to be a suicide." She said that one of Zahau's sisters, who talked to her the night before her death, said Zahau "was completely fine" and didn't feel guilty about Max Shacknai's death.
"This investigation is woefully inadequate right now for the family," Bremner told HLN, adding that investigators did not meet with anyone in Zahau's family until two days ago.
The mysterious nature of the two deaths, as well as the posh surroundings in which they occurred, have elicited intensive media attention. Jonah Shacknai, who was the father and boyfriend respectively of the two people who died, is the founder and CEO of Medicis Pharmaceutical Corporation as well as a lawyer and former congressional aide.
In a statement, Shacknai called Friday "a very sad day for our family, as we are again reminded of the enormity of these tragedies." He described his late son as "an extraordinarily loving, happy, talented and special little boy" and Zahau as a "wonderful and unique person."
"Nothing will ever be the same for our families after these losses, but with today's information providing some much needed answers, we will try to rebuild our lives and honor the memories we carry with us," Shacknai said.
But Horwath, Zahau's sister, said her family does not believe investigators have the true and complete story -- adding that she believes strongly that the death was a homicide.
"My sister did not commit suicide," Horwath insisted. "We, as a family, we want justice for (Rebecca) and we will fight however long needs to be until the murderer of my sister is found."