Florida sheriff's detectives ask court to bill Casey Anthony $293,123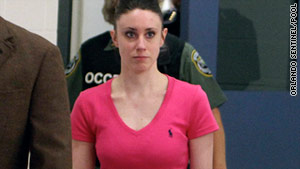 A Flordia sheriff's office is requesting a judge order Casey Anthony to pay for their 2008 investigative costs.
STORY HIGHLIGHTS
NEW: A court hearing on whether to bill Casey Anthony is rescheduled to September 2
The sheriff's office spent $293,123 investigating Caylee Anthony's disappearance
That figure counts only detective work; the cost of other deputies' work isn't included
Prosecutors want Casey Anthony to pay the cost and those of other law agencies
(CNN) -- The Orange County, Florida, Sheriff's Office spent $293,123.77 on detective work in the disappearance of 2-year-old Caylee Anthony in 2008, according to authorities, and it wants to be reimbursed.
The sheriff's office is among three law agencies asking a county judge in Orlando to order the girl's mother, Casey, to pay their investigative costs.
A court hearing on that request was set to take place Thursday, but it was rescheduled to September 2, court spokeswoman Karen Levey said Wednesday.
Anthony has been in seclusion since her July acquittal on murder charges in the 2008 death of her 2-year-old daughter and her subsequent release from jail.
But in the same case, a Florida jury convicted her on four misdemeanor counts of providing false information to law enforcement officers. Prosecutors cite those misdemeanor convictions as the legal basis for their request that Anthony pay for the police costs involved in her daughter's disappearance.
Caylee Anthony's skeletonized remains were found in December 2008 in woods less than a mile from her grandparents' Florida home.
Lt. Paul Zambouros of the Orange County Sheriff's Office said the investigative costs of $293,123.77 are based largely on the criminal investigation division's work between July 15, 2008, and December 11, 2008. If other deputies' work were included, "the reimbursement for cost of investigation would certainly be larger," Zambouros said in an internal July 28 memo.
Prosecutors are also seeking reimbursement for the Florida Department of Law Enforcement's investigative expenses of $71,939.56 and the Metropolitan Bureau of Investigation's expenses of $10,645.38, according to court records.
Anthony's attorney didn't return calls for a comment.
FOLLOW THIS TOPIC