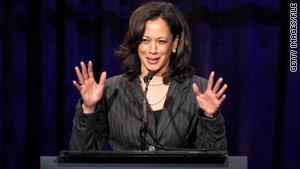 Attorney General Kamala Harris is suing attorneys who allegedly deceived at least 2,500 troubled homeowners.
STORY HIGHLIGHTS
Official says "ring" of attorneys used deceptive advertising and telemarketing practices
The attorneys allegedly deceived at least 2,500 homeowners with troubled mortgages
Defendants sent out 2 million pieces of fraudulent mail promising relief, suit says
Official says lawyers charged distressed homeowners fees of up to $10,000
Los Angeles (CNN) -- The California attorney general is suing "a ring" of lawyers for allegedly defrauding at least 2,500 homeowners out of millions of dollars, a scam that was supposed to provide relief on their troubled mortgages, she said Thursday.
The civil suit filed by the state's top attorney names three law firms, three other lawyers and 14 other defendants. They are accused of sending 2 million deceptive pieces of mail in California and at least 17 other states and using misleading advertising and telemarketing practices to entice desperate homeowners to believe that they could sue mortgage lenders and stop foreclosures, Attorney General Kamala Harris said.
Harris said the defendants sold homeowners on participating in mass joinder lawsuits against lenders and promised that the suits would reduce their loan balances or interest rates, obtain monetary damages and even result in free and clear title to their homes.
The state's lawsuit seeks fines, penalties, damages and restitution in the tens of millions of dollars, Harris said in San Francisco.
"Yesterday, we broke up what we believe is a fraud ring that is national in scope," Harris said. "They were engaged in what is called a mass joinder scam."
On Wednesday, state authorities took over the law firms named in the attorney general's lawsuit, Harris said. On Monday, the law firms cited in the suit were placed into receivership, and the defendants' assets were seized and enjoined from continuing operations, Harris added in a statement.
The lawyers charged homeowners fees of up to $10,000 to make them as plaintiffs in a mass joinder lawsuit, Harris said. Such a suit involves a large number of plaintiffs in which each has their own set of facts to prove.
She claims the "mass joinder scam" involved deceptive mass mailers appearing as official settlement notices or government documents and told homeowners they were potential plaintiffs in a "national litigation settlement" against lenders. No such settlements existed, Harris said.
Also, homeowners were unable to get the lawyers to answer simple questions such as whether they had been added to the mass joinder suit, Harris said. Some lost their homes in the process, even after paying the lawyers their retainer fees.
Harris said the attorneys and other defendants also engaged in the unlawful practice of "running and capping," in which the attorneys paid commissions to "a mill" of sales representatives based on how many homeowners were signed up.
State officials said they would help the homeowners find other attorneys who could help them.
The attorney general's civil suit alleges false advertising; unfair, fraudulent and unlawful business practices; unlawful running and capping; improper fee splitting in which defendants unlawfully split legal fees with non-attorneys; and failing to register with the California Department of Justice as a telephonic seller.
According to a statement by Harris, the state's Department of Justice has seized the practices of several non-attorney defendants, and the California State Bar has seized the practices and accounts of the several attorney defendants, including the law offices of Kramer & Kaslow and its senior partner Philip Kramer.
Harris identified Kramer, an attorney in Calabasas, as "the ringleader" of the fraud.
Neither Kramer nor his law firm could be reached immediately for comment Thursday.
California State Bar President William Hebert said that a total of 20 lawyers have been disbarred or forced to resign because of loan scams since 2009. He described the attorneys' alleged scams in the nation's mortgage meltdown crisis as "nothing short of shocking." Victims of such frauds are typically senior citizens and minorities, particularly Latinos, officials said.
"The message to lawyers out there is that if you think you can take advantage of clients, you can't," Hebert said Thursday. "This is an example of a new aggressive stance we're taking against lawyers that you're going to see in the months and years to come."
Kramer & Kaslow's website states that "Philip Kramer has become the leader in the fight -- your fight -- against 'the big bad banks.' "
"The old 'loss mitigation' process may not be working any more, but we have a new and better approach, where we aim to force the banks to settle as they face multi-plaintiff 'mass joinder' lawsuits of national scope that will seek to give you financial relief if not void your mortgage loan entirely," the firm's website says.