Man pleads 'no contest' in assault of woman he met on Match.com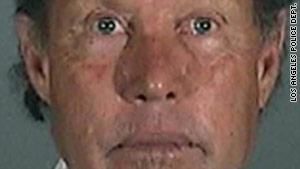 Alan Paul Wurtzel met a female television executive on Match.com, according to the L.A. district attorney's office.
STORY HIGHLIGHTS
The defendant sexually assaulted a woman he met online, according to prosecutors
Alan Paul Wurtzel pleaded no contest to one charge and could get a year in jail
Wurtzel also must register as a sex offender for life, the district attorney's office says
Los Angeles (CNN) -- A man charged with sexually assaulting a woman he met on Match.com pleaded no contest Wednesday to felony sexual battery by restraint, according to the Los Angeles district attorney's office.
Alan Paul Wurtzel, 67, of Pacific Palisades, California, could get a year in jail and five years' formal probation, Deputy District Attorney Jane Creighton with the Sex Crimes Division said in a news release. Wurtzel will be back in court September 19 for sentencing, the release said.
Wurtzel also must register as a sex offender for life. In exchange for his plea, one count of forcible oral copulation stemming from the same encounter will be dismissed, the district attorney's office said.
Wurtzel and a female television executive met in early 2010 on the website Match.com and went on two dates, according to the news release. On the second date on May 20, 2010, Wurtzel drove the woman home and followed her into her residence, where he sexually assaulted her while holding her down, said the release, which did not identify the victim beyond describing her profession.
Meanwhile, a hearing is scheduled Friday in state superior court in Los Angeles in a lawsuit against Match.com by a woman who said she was sexually assaulted by Wurtzel after meeting him on the site.
The woman, Carole Markin, a film and TV producer, went public in April with a series of media appearances including an interview with HLN.
She told HLN that Wurtzel forced her to perform sexual acts on him, at her residence, while they were on their second date.
Markin said afterward, "I looked up his name (on the Internet) and I saw that he had a bad past."
She said she filed the lawsuit and was making public statements because "I want to prevent something like this happening to another woman."
Match.com responded at the time of Markin's public statements by saying it would begin cross-referencing members against the National Sex Offender Registry.
Mandy Ginsberg, president of Match.com, U.S., said in a statement in April that "improved technology and an improved database now enables a sufficient degree of accuracy to move forward" with an initiative it had previously discounted because of the background checks' "historical unreliability."