Fugitive trio due back in Colorado court in two weeks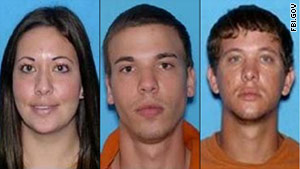 Lee and Ryan Dougherty, center, and Dylan Dougherty Stanley are accused of bank robbery and attempted murder.
STORY HIGHLIGHTS
The Dougherty siblings' next court appearance will be in Colorado on August 29
They were arrested in Colorado after a high-speed chase
They are accused of bank robbery in Georgia and attempted murder in Florida
(CNN) -- Three siblings caught last week after a nationwide manhunt and a high-speed chase in Colorado will make their next court appearance in two weeks, officials said Monday.
Dylan Dougherty Stanley, 26, Ryan Edward Dougherty, 21, and Lee Grace Dougherty, 29, are due in court in Huerfano County, Colorado, on August 29, Bobby Griffin, court administrator for the 10th judicial district in Colorado, confirmed Monday. They are charged in Colorado with attempted murder and assault on a police officer.
A hearing that day at 10 a.m. will review the status of the case, including charges being filed by Huerfano County, Griffin said. The chase that ended in their capture Wednesday was in Huerfano and Pueblo counties. Pueblo filed charges Thursday.
The three are being held in Colorado with bail set at $1.5 million each.
They are also accused of bank robbery in Georgia and attempted murder in Florida.
Police arrested the siblings after they crashed their car along a rural Colorado highway; police say they were shooting at officers with an AK-47 during a chase at speeds up to 120 miles an hour.