Man accused in attempted bombing of Oklahoma gas pipeline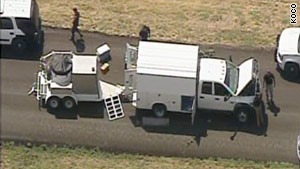 A bomb squad disabled the device found under a gas pipeline in Okemah, Oklahoma.
STORY HIGHLIGHTS
Oklahoma man arrested after bomb found under pipeline
Workers spotted device Wednesday, and it was disabled
Documents say suspect called 911 to report himself
Device failed to explode as intended, investigators say
Washington (CNN) -- An Oklahoma man has been arrested for allegedly placing an improvised explosive device under a gas pipeline, but law enforcement officials say they do not believe the man was connected to any type of terrorist group and was not a disgruntled worker.
According to the FBI, Daniel Wells Herriman, 40, was arrested Friday in Seminole County and faces charges of attempting to destroy property used in interstate or foreign commerce.
Two employees of Enerfin Resources spotted the device Wednesday underneath a gas pipeline in Okemah, Oklahoma, and called authorities. A bomb squad disabled the device.
According to a criminal complaint, Herriman called the Seminole County Sheriff's Office 911 line the same day, saying he wanted to turn himself in and said, "I set the bomb under the pipeline in Okemah."
The complaint said that materials similar to those found in the device were found at Herriman's home and that he confessed to making the improvised explosive device. Herriman allegedly told investigators he planted the bomb three days before it was discovered and set a timer for it to go off in the middle of the night. But the bomb did not go off as scheduled.
The court document said the device was made out of PVC pipes, a propane tank, what appeared to be black powder, a wind-up alarm clock and batteries. An FBI spokesman would not comment on how much damage the device might have caused if it had exploded as intended.
The criminal complaint does not say whether Herriman told authorities his motive for placing the device under the pipeline.