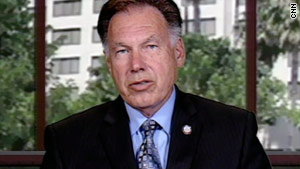 Orange County District Attorney Tony Rackauckas said "there is no question whether or not force was used."
STORY HIGHLIGHTS
NEW: Mayor: Police chief, on medical leave, "probably will not want to return to his job"
NEW: One officer involved is on a video in another controversial arrest, dad says
City council directs attorney to prepare agreement with independent consultant
The city expects the man's parents to sue, city attorney says
Fullerton, California (CNN) -- The Fullerton City Council directed its attorney Friday to prepare an agreement with an independent consultant to review last month's police arrest of a homeless man who sustained injuries and later died.
The council will formally vote on that agreement Tuesday, City Attorney Richard D. Jones said.
The consultant also will review the police department's overall policies and practices and will recommend reforms, Jones said. Earlier, the council held a nearly two-hour closed special session to discuss the consultant and other legal issues surrounding the death of Kelly Thomas, 37, a homeless man who was a schizophrenic.
Jones also said he is going to notify the city's insurance carriers about a claim filed against the city by Thomas' parents. Jones said he expects the parents to file a lawsuit.
The consultant, Michael Gennaco, who works with law enforcement agencies across the nation, said after the council meeting that if hired, he will look at how Fullerton police officers were said to have written their reports only after viewing a videotape of the arrest and alleged beating.
Gennaco said police departments have different policies on whether officers can or cannot look at their videotapes before writing their reports.
Gennaco said he anticipated that his contract with the city would cost $50,000 to $70,000. He said taxpayers could expect police "reform" if he were hired.
He is now chief attorney for a civilian oversight committee created by the Los Angeles County supervisors to monitor the county sheriff's department, Fullerton city officials said.
"This incident is tragic, and it's obviously struck a never with Fullerton and beyond," Gennaco said about Thomas' death. "With every critical incident, a department can improve."
The council held a special meeting Friday as controversy grows over over the incident, in which Thomas' father is alleging police brutality. There are two external investigations into the death, by the FBI and the Orange County district attorney's office.
Meanwhile, Fullerton City Clerk Sylvia Palmer Murdick said her office received official notice Friday that residents are going to start a recall petition drive for Mayor F. Richard Jones, Mayor Pro Tem Don Bankhead and Councilman Pat McKinley.
Chris Thompson, a volunteer in the petition drive who is also a Fullerton School District board member, told the council Friday that petition organizers were seeking the recall of the three elected officials; they each make $9,000 a year, said Robert Ferrier, assistant to the city manager.
The organizers of the recall effort have to gather signatures from 15% of the city's 73,061 registered voters in order for recall elections to be held, as early as July or August of next year, Murdick said. The five-member council selects among its members persons to serve the one-year terms of mayor and mayor pro tem, Murdick said.
Thomas, 37, died last month after what a prosecutor called "a violent and desperate struggle" with police officers in Fullerton.
His father, Ron, said Friday that four new witnesses to that struggle have come forward this week, and he notified the FBI and the Orange County district attorney of the new witnesses Thursday.
The four witnesses, who had been afraid to make themselves known, saw "100% of everything" and "100% of the nonstop beating to my son's head" by police, Ron Thomas said.
Two of the witnesses are a husband and wife, and they saw Kelly Thomas before his encounter with officers, when Thomas was "not bothering anyone, just walking," his father said. The four witnesses approached the father Wednesday evening, he said.
"It's real key," Thomas said of the four witnesses' accounts. "It substantiates a lot of facts. They're very, very reliable people."
The incident "goes so far beyond brutality," the father said Friday.
Ron Thomas said he met with the district attorney Friday morning and told him that he believes the police acted out of malice.
"I want it explained to me what was going through the officers' mind, and you, Mr. D.A., said that you didn't see any intent (to kill by police), but as (the officer) was beating my son's head, what was his intention?" Thomas said he told the district attorney. "How can that be justified as trying to apprehend him?"
"That's certainly malice, if not intent (to kill)," Thomas said. "Why do you have to beat someone's head so bad by trying to arrest him?"
The prosecutor said he will take the remarks into consideration, Thomas said.
Thomas also said that he brought to the attention of Fullerton police three weeks ago the existence of a YouTube video that purportedly shows one of the officers involved in his son's arrest as also being involved in another controversial arrest last year.
On Friday, Gennaco said his inquiry would look into that incident and added: "The administrative history of these officers is going to be critical to the review" of the Thomas arrest.
Jones, the city attorney, opened Friday's meeting by saying that the council was expected to hold a closed session to discuss potential litigation, including "a claim by Mr. Thomas."
"He is pursing civil liabilities against the city," Jones told the council and two dozen residents in explaining why city officials weren't publicly commenting on the case. "We are in a lawsuit situation."
Jones added that the investigations and potential litigation are going to last "several years before it's fully sorted out."
Thomas' death has led to temporary changes at the local police department.
Police Chief Michael Sellers took paid medical leave this week amid a call for his resignation from two council members.
Said Mayor Jones: "Because of legalities, according to our attorney, we cannot relieve of him of his job when he is on medical leave, but I suspect, however, Chief Michael Sellers probably will not want to return to his job."
Six police officers have been placed on paid administrative leave, city officials said.
As scrutiny intensifies on the 144-officer department, the acting police chief, Capt. Kevin Hamilton, said Thursday that he wouldn't influence the expanding inquiries.
"I think there is a notion out there that we are in some way shape or form going to try to cover things up in the investigation or influence things," said Hamilton, a 32-year veteran appointed acting chief Wednesday.
"What I want the public to know is this: We're not going to influence any of that. If the officers are culpable criminally or if they're culpable internally, they are going to be held accountable."
At the special meeting Friday, the recommendation to hire Gennaco came from City Manager Joe Felz.
The incident between Thomas and the police officers at a Fullerton bus depot was captured on video, local authorities said. The video has not been released to the public.
It started July 5, when six officers responded to reports that a man was trying to break into cars near the depot, according to police reports.
The officers identified the suspect as Thomas, who was known to frequent the area. An altercation with police officers left him with serious injuries, and he was taken to a local hospital, police said.
Witnesses said Thomas had been shocked repeatedly with a stun gun, beaten with flashlights, kicked and hog-tied by the officers.
Thomas was taken off life support July 10.
A photo of a man purportedly taken afterward and identified as Thomas was posted online. It shows the bruised and swollen face of a bandaged, bearded man lying on a bloodstained pillow.
It is difficult to tell whether the photo is of Thomas because his battered features are unidentifiable.
"There is no question whether or not force was used," said Tony Rackauckas, the Orange County district attorney.
"The question is whether or not it's reasonable force, given all the circumstances presented to police at the time, and whether or not they were overcoming unlawful resistance by Mr. Thomas."
Rackauckas said there are "legal questions" that need to be answered.
"I think we'll have the whole picture here in a short time, and we're moving toward a just and fair result," Rackauckas said.
The six officers could be exonerated or face an array of charges, including manslaughter or murder, if it is determined that Thomas died because of "unreasonable force" and depending on what is deemed "the officers' mindset at the time," according to Rackauckas.
But the prosecutor said he has not seen "any evidence of intentional killing" -- namely, that police came on the scene planning to kill Thomas.
He has seen a surveillance video showing the incident.
"It's heart-wrenching, it's hard to describe it differently," Rackauckas said of the video. "It's a tragic incident. It makes your heart go out to the family of Mr. Thomas."
The district attorney said the video "shows the encounter -- how it started and how it erupted into this violent and desperate struggle."
He said it should help authorities determine whether officers were using "lawful force ... in the conduct of a lawful duty."
Councilman Bruce Whitaker said he called for Sellers' resignation for two reasons: Thomas' death and an apparent suicide of an inmate in April at a jail supervised and operated by the police department.
Councilwoman Sharon Quirk-Silva said she asked for the police chief's resignation because he didn't take the lead in communicating with council and the public about Thomas' death.
FOLLOW THIS TOPIC