Training wheels found like those used by missing Missouri girl, 3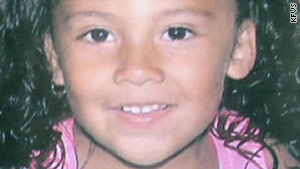 Breeann Rodriguez, 3, disappeared on Saturday from in front of her home in Senath, Missouri.
STORY HIGHLIGHTS
Breeann Rodriguez was last seen riding her bicycle outside her house Saturday
Authorities say they've found training wheels believed to be from her bike
A $45,000 reward is being offered; the FBI is looking for a white van
(CNN) -- Police in Missouri said Thursday that they'd found two training wheels similar to those on a pink bike ridden by a 3-year-old girl before she went missing.
Senath, Missouri, police Chief Omar Karnes described the training wheels as "items of interest," saying they were similar to ones on the bicycle of Breeann Rodriguez when she went disappeared Saturday. The bike itself hasn't been found.
The girl was last seen riding with her brother in front of their home in Senath. The city, which has about 1,800 residents according to the U.S. Census Bureau, is in southeast Missouri's "bootheel" about 40 miles northeast of Jonesboro, Arkansas, and 90 miles north of Memphis, Tennessee.
The wheels were found in a wooded lot about 2.5 miles southeast of town, said Karnes. The FBI said Thursday in a press release they were located in "heavy brush (off) County Highway 568 east of Buffalo Ditch in Dunklin County."
Authorities found them after expanding their search area Tuesday and Wednesday. New areas are being gridded off, said the chief, as investigators continue to hunt for clues.
Edgar Rodriguez, the girl's father, told HLN's Nancy Grace on Thursday that he and his wife apparently failed polygraph tests administered by authorities.
"To be completely honest with you, I don't believe that we failed (the test)," he said. "(But) they said we failed it. I don't know why."
The FBI said that it showed the training wheels to Rodriguez. His belief they were from his daughter's bike was based on the distinct way he had to "manipulate the training wheels and bike to lower it for her height," according to the FBI.
"I 100% know" the wheels came from Breeann's bike, said Rodriguez. "(There isn't) even a hint of a doubt."
The FBI said that there have been "many leads" in the case. Specifically, the agency is trying to track down a white van that had been seen in the area days ahead of Breeann's disappearance.
In addition, digital billboards with the girl's picture are being displayed in Jonesboro and Cape Girardeau, Missouri, about 100 miles north of where she went missing.
A $45,000 reward -- $25,000 from the FBI and $20,000 from the Senath Marshal's office -- is being offered for information leading to her recovery and the prosecution of those responsible.
According to the FBI, Breeann was last seen wearing a pink top, as well as pink and purple shorts.
CNN's Divina Mims contributed to this report.
FOLLOW THIS TOPIC