STORY HIGHLIGHTS
Authorities have found at least 10 sets of human remains in Long Island since December

Some victims advertised as online escorts

Authorities fear there may be more than one serial killer at work

The case has grown cold and victims' families are working to find out what happened
North Babylon, New York (CNN) -- Kim Overstreet took out an ad hoping to catch a killer.
The Long Island resident says she placed the ad online after learning women were disappearing not far from her home.
Some went missing as far back as 2007. Her sister, Amber Lynn Costello, was one of them. The 27-year-old who had been living in North Babylon, Long Island, disappeared in September.
Costello was eerily similar to the others.
She, Melissa Barthelemy, Maureen Brainard-Barnes, Megan Waterman and Shannan Gilbert were similar in age, height and personality.
After their other jobs had dried up, they had all occasionally advertised their services online as escorts.
And they all may have disappeared on days they met clients.
Atlantic City killings could be linked to others
In what their families say is an absence of information from police, every single woman's family has tried to do their own kind of digging to try to understand what happened to their loved one.

Woman searches for sister's killer
Overstreet's ad asked other women who work as escorts to call her. She wanted them to tell her if they ever encountered a client who was threatening or just didn't seem right.
She knew few would phone police.
"I worked for a(n escort) service when I was younger," she says. "We knew we had to protect ourselves. Police were not an option."
In December, police had to become an option. A Suffolk County K-9 officer went searching for one of the missing women, Shannan Gilbert.
The officer did not find her. Instead he found the other four missing women. Their decomposed bodies were wrapped in burlap, dumped close together near Gilgo Beach.
"I don't think it's a coincidence that four bodies ended up in this area," Suffolk County Police Commissioner Richard Dormer said at a press conference at the time.
"We could have a serial killer."
When Overstreet got this horrifying news she says she became obsessed.
"What happened to Amber eats at me every day," Overstreet told CNN recently. "Finding out who did this consumes me. I stay up all night doing research and trying to re-trace her last steps."
Overstreet started pumping Costello's friends for information about the day she disappeared. The details strike her as important:
Her sister's last client seemed to go to great lengths to remain anonymous. He did not want to meet at her house and for some reason he called her throughout the day.
"He called her at around 10 and said he was coming down the road and told her to walk down the street," Overstreet said. "She hung the phone up, gave it to the people she was with and walked out the door. She said, 'If my sister calls, tell her I love her.'
"She was never seen again."
Costello did not take her purse or phone to the appointment.
When Overstreet searched the phone to find the client's number, it was missing. In her search for information, Overstreet met with the families of the other victims.
All the families say they regularly e-mail each other, call and connect through Facebook. Together they go over details of what they've found, searching for any connections police may have overlooked.
The investigation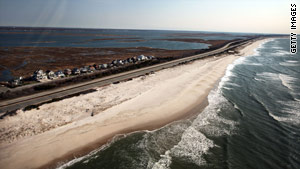 At least 10 sets of human remains have been found on and around Long Island's Gilgo Beach since December.
This case dominated the headlines late last year and earlier this year when Suffolk County police said they suspected a serial killer.
Since then, the media attention has gone away.
Suffolk and Nassau County police along with the FBI are still investigating, but they have been tight-lipped about what they've found so far.
What is known is that after finding those first four bodies in December, police staged what is one of the largest searches in Long Island history.
Combing through the dense underbrush near where those bodies were dumped, they found the remains of up to six more people.
Investigators don't necessarily think those bodies are connected to the first four.
That means there may be more than one serial killer at work.
"What we do know for certain is that the area in and around Gilgo Beach has been used to discard human remains for some period of time," Suffolk County District Attorney Thomas Spota said at a press conference in April.
"As distasteful and as disturbing as that is, there is no evidence that all of these remains are that of a single killer."
At the same time police said they were reaching out to departments in the area to ask them to dig through their open cases. For instance, a case involving the murder of four women found in Atlantic City in 2006 seemed similar to the one in Long Island.
Police say the Long Island case is still an ongoing investigation, but it will be a very difficult one to solve.
"This investigation is not an episode of 'CSI' or 'Criminal Minds' that is going to be solved in a one-hour period," Spota said. "The investigation is multifaceted, multijurisdictional, and most likely is going to take a very long period of time to complete."
Perhaps in light of the difficulty in solving the case, Suffolk County Crime Stoppers is offering five times its usual reward for information leading to an arrest.
Melissa Barthelemy, 24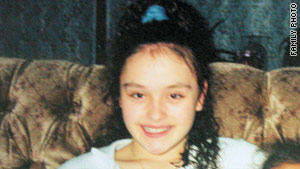 Melissa Barthelemy went missing from the Bronx in 2009.
"I still don't sleep through the night thinking about all of it," said Lynn Barthelemy. "We're constantly thinking of different scenarios of who it is and how it happened."
Since her daughter disappeared from the Bronx in 2009, Barthelemy has kept a notebook about what she learned. She also talks regularly with the families of the other victims.
The Barthelemy family, who lives in Buffalo, called every person listed on Melissa's cell phone record. And they talked repeatedly with the last person they knew who saw their daughter.
"We harassed him so bad in the beginning that he changed his phone number," Lynn Barthelemy said.
Not much is known about what happened the day she disappeared.
"All I know is her landlord said she was sitting on the curb as if she was waiting for someone to pick her up," Lynn Barthelemy said. "Earlier that day she made a bank deposit of $900."
As the family frantically searched, Melissa's younger sister got a call about five days after she went missing.
"The caller ID said 'Melissa,'" Lynn Barthelemy remembers. "(Her sister is) all excited so she picked up and said 'Melissa,' and there's a guy on the phone."
The Barthelemys were told by police not to reveal details about the calls, but Lynn does say the man was menacing and he wouldn't answer the family's questions.
Using Melissa's phone he called them half a dozen times over a month. No call lasted longer than three minutes.
Police traced them, but the calls were made from crowded places where the man wouldn't be easy to identify.
On the last call, Lynn Barthelemy says the man confessed.
"He did confirm that he did kill her," she said. "That's why we are thinking this guy obviously held these girls and tortured them. Otherwise, why else would he have called for over a month? Unless he was just torturing us."
No other family got such calls. Buffalo lawyer Steve Cohen, who has worked with the Barthelemy family from the beginning, says he continues to help their investigation in large part because he believes other lives are at stake.
"Let's be perfectly clear about something. We are dealing with a psychotic murderer," Cohen said. "He is very bright, very deliberate, very calm, very well-prepared, and he will kill again."
Maureen Brainard-Barnes, 25
Maureen Brainard-Barnes advertised as an online escort after her telemarketing job ended and she faced eviction.
Melissa Cann says she understands why police don't tell her much about the investigation.
"I know they are working hard to find this man, and they don't want any leaks about the case to tip him off," she said.
But in the absence of information, she, too, has tried to piece together what happened to her 25-year-old sister, Maureen Brainard-Barnes.
"I've gone through all her e-mails, looked at phone records, and I talk every day to (Megan Waterman's mother) through Facebook. We're going up to stay with Lynn (Barthelemy) in August. We're family now."
Cann's sister has been missing the longest. She disappeared in July 2007 after taking the train from her home in Connecticut to Manhattan.
After her seasonal telemarketing job ended, she advertised as an escort on Craigslist because she faced eviction court.
"She had lost her telemarketing job and couldn't find another. She was desperate," Cann said.
Cann's husband and brother went down to look for Brainard-Barnes at a motel in the Times Square area where she said she was headed.
There, they handed out fliers.
"But they told me, 'It's not like here. Everyone in Times Square is too busy to notice anything.' "
Megan Waterman, 22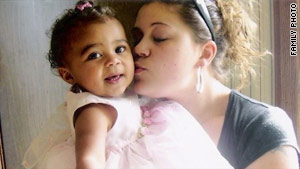 Megan Waterman, seen here with her now 5-year-old daughter, also placed escort ads online.
Megan Waterman's family took their search for answers one step further.
With funding from the nonprofit human rights organization Avaaz, they started working with a team of private investigators.
Investigative team member Dottie Laster explains why private investigators can be helpful. Police, she says, have a different timeline than the families do.
"A family wants to rescue their daughter, or at least find quick closure. Their needs are urgent," she said. "Police take a slower approach, which is methodical for a reason. Police focus on arresting someone and making sure there is enough evidence to convict."
The private investigators have been able to piece together what they think happened on Waterman's last day.
They say she and a man in her life placed escort ads on Craigslist in June 2010. Waterman, 22, and the man went from their homes in Maine down to Long Island to meet clients.
They stayed at a hotel about 10 miles away from where the bodies were found.
Laster says when Waterman got there she called home "and said 'Mom, you can't believe the people we're selling to -- they're doctors, they're lawyers, they're law enforcement professionals," Laster said.
She sounded a little starstruck. But after that call and a short conversation Waterman had with her daughter, the family never heard from her again.
Security camera footage showed her leaving a hotel in Hauppauge, Long Island, alone sometime after 1:30 a.m. When the usual call she made home in the morning didn't come, the family immediately knew something was wrong.
"For them, every day was excruciating and months went by," Laster says. "We looked and looked and we're focusing in this area where she went missing from and -- the moment it broke on the news about the four bodies and that's the area where our investigator was looking even before they officially identified them -- we just knew."
Shannan Gilbert, 23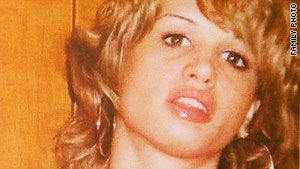 The search for Shannan Gilbert led authorities to the other bodies, but she remains missing.
The same private investigation team is also working with Shannan Gilbert's family. Sherre Gilbert, Shannan's sister, says the private investigators' help is a reassuring boost to her own family's efforts.
Gilbert and her sisters have made several trips from their home in upstate New York to Long Island to look for information about their sister's disappearance.
"We made up fliers and passed them out and went door-to-door, getting people's stories," Sarra Gilbert said.
While searching outside the house where their sister met her last client, a house just a few miles away from where police found the other women's bodies, they found something disturbing.
"We actually found a piece of her jewelry."
"The police had been there and searched it before the sisters went there, but when the sisters went they say they found her earring on the front porch," Laster said. "So now they're more frantic and now they're more frustrated."
When the sisters went through Shannan Gilbert's cell phone records, they grew especially concerned. Her last call was to 911 and she was on the phone for 23 minutes.
Laster says police have not let them listen to that recording, but she says they have learned Gilbert can be heard saying, "He's going to kill me."
When the sisters went knocking on neighbors' doors, they met Gus Colletti, who had an incredible story to tell them.
The day Gilbert went missing, Colletti had his lights on and was up about 5 a.m.
It's very dark in the Oak Beach complex where Gilbert was meeting her client, and Colletti figures she must have run toward his light.
Finding out who did this consumes me. I stay up all night ... trying to re-trace her last steps.
--Kim Overstreet, victim's sister
"She showed up at my door and started screaming 'Help me! Help me! Help me!' and I opened the door and she stepped in and she just stood there yelling 'Help me,' " Colletti said. "I picked the phone up, I start to dial 911, and she bolted out the door. Then there was a car coming down this road slow, stopping, going, stopping. I got in front of his car and stopped him and said, 'What are you looking for?' and he said, 'We were having a party at (the clients' house) and one of the girls got upset and left. I'm looking to find her and bring her back.' And he took off after her. And that was the last time I saw her."
As for now, police do not consider the driver nor the client suspects.
They do consider the Gilbert case an open missing persons' investigation.
"We are still concerned about Shannan Gilbert, who is missing," Police Commissioner Dormer says. "We are going to continue our efforts to find her. It's obviously something we'd like to bring to a conclusion for our investigation and for her family."
Sherre Gilbert says the ongoing investigation and the care she has gotten from all the families who continue searching is a comfort.
The Gilberts say they still hold out hope for their sister, but every day that goes by, it gets harder and harder.
"We pray every single day about it," Gilbert says. "I'm just hoping with all of this that one day she will get found and the killer of these other girls will get what he deserves."
FOLLOW THIS TOPIC