FBI joins probe into Michigan campus attacks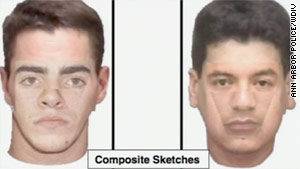 Ann Arbor police have released a composite sketch of two men suspected of sexual assault.
STORY HIGHLIGHTS
A string of sexual assaults have the University of Michigan on edge
The city of Ann Arbor asked for FBI help
Police do not know if assaults are linked
(CNN) -- The FBI announced Friday it is joining a police investigation into a string of sexual assaults around the University of Michigan campus.
The agency will be assisting Ann Arbor police at the city's request, said FBI spokeswoman Sandra Berchtold. She did not provide any details about the agency's role.
The six attacks occurred between July 15 and 26, and between the hours of 10 p.m. and 2 a.m. The victims were traumatized, said police spokeswoman Lt. Renee Bush.
Ann Arbor Police Chief Barnett Jones said he did not know if the attacks were linked. He warned in a letter to university staff, faculty and students that there was a "predator or predators operating in our community."
Police have released a composite sketch of two men in their early to late 20s through descriptions culled from some of the victims, and have urged the university community to get vigilant about safety.
"We want people to be safe," Bush said. "We just need to catch this person or persons."
A reward up to $1,000 is being offered for any information leading to an arrest.