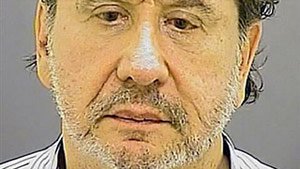 Barry Landau is accused of stealing millions of dollars worth of historical documents from museums.
STORY HIGHLIGHTS
2 men charged with stealing presidential papers worth millions
Baltimore police say 60 such items were found in a locker
Historical society employee are credited with tipping police
Inspector general: The "scope and notoriety" of the case is "breathtaking"
Washington (CNN) -- Two men were indicted Thursday by a federal grand jury on charges of stealing dozens of historical papers, including documents signed by President Abraham Lincoln valued at $300,000.
Federal officials accuse Barry Landau, 63, and Jason Savedoff, 24, of stealing millions of dollars of irreplaceable historical documents from museums in Maryland and New York from December 2010 through this month and selling them.
The men, both of New York City, are accused of stealing documents from the Maryland Historical Society's museum library after an employee thought the pair exhibited suspicious behavior. The indictment also alleges Landau and Savedoff stole documents from the New York Historical Society.
The two are expected to have an initial court appearance in U.S. District Court in Baltimore on Friday. In the meantime, a nationwide federal investigation continues.
"The indictment returned today alleges that these two individuals alienated historic records from the holdings of the American people," said National Archives and Records Administration Inspector General Paul Brachfeld. "While our Archival Recovery Team has recovered thousands of records during my tenure, the scope and notoriety of what we have seized and secured in this case is truly breathtaking," Brachfeld said in a statement.
According to a Baltimore Police Department report, an employee of the Maryland Historical Society said he watched Savedoff take a document, conceal it in a portfolio and walk out of the library with it earlier this month. The employee then called police.
The report states 60 documents were found in Savedoff's locker near the library, some of which had been signed out by Landau.
Along with the papers bearing Lincoln's signature, other recovered documents included signed commemorations of the Statue of Liberty and the Washington Monument, each valued at $100,000, and several presidential inaugural ball invitations and programs with an estimated value of $500,000, according to the police report.
"These are only four (4) of the (60) documents recovered from Mr. Landau and Mr. Savedoff," the police report states. "The staff of the Maryland Historical Society advised that the other 56 documents are of the same approximate value."
The federal indictment states that on December 2, 2010, Landau and Savedoff stole seven copies of speeches given by President Roosevelt from the Franklin D. Roosevelt Presidential Library and Museum in New York, among other items. Landau allegedly subsequently sold four of the speeches for $35,000.
The two men are also accused of stealing a letter dated April 1, 1780, from Benjamin Franklin to John Paul Jones.
"This scheme, which was exposed thanks to a vigilant employee of the Maryland Historical Society, a quick response by the Baltimore Police Department and State's Attorney's Office and a swift investigation by the FBI, should send a wake-up call to museums that entrust valuable documents to persons who claim to be engaged in academic research," said U.S. Attorney Rod Rosenstein.
Neither Landau's attorney, Andrew C. White, nor Savedoff's attorney, Larry Nathans, immediately responded to a message requesting comment.
The two men are being held in the Baltimore City Detention Center, according to the Maryland Department of Corrections database.
Maryland Historical Society President Burt Kummerow said he is proud of how the museum handled the situation and is pleased the documents have been returned.
"It would have been a huge loss because then (the documents) are no longer in the public record and then they're no longer available," he said.
Dozens of people enter the museum's special collections unit every day to view original artifacts and conduct research.
The defendants face a maximum sentence of five years in prison for conspiracy and 10 years in prison for theft of the documents.
CNN's Samantha Stamler contributed to this report.