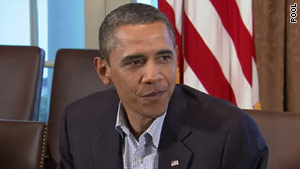 A grand jury indicted Ulugbek Kodirov and charged him with making threats to President Barack Obama.
STORY HIGHLIGHTS
Two people who man asked for help were secretly government sources, the affidavit says
He had grenades and a machine gun, the Justice Department said
Suspect plans to plead not guilty, his attorney says
Kodirov has expressed support for extremists, a source told authorities
(CNN) -- A 21-year-old man from Uzbekistan living in Alabama sought assistance to kill President Barack Obama, either by shooting him or potentially using explosives for a suicide attack, according to a government affidavit.
Ulugbek Kodirov was indicted Tuesday and charged with threatening to kill the president.
His court-appointed attorney Lance Bell said he intended to enter a not guilty plea at arraignment.
Kodirov faces four counts of threatening the president and other weapons charges -- including possessing grenades and an M15 machine gun, the Justice Department said.
A source whom Kodirov contacted for help in his plot told authorities he supports Islamic extremists, the affidavit says.
Paul Daymond, a spokesman for the FBI in Birmingham, Alabama, said, "There is no terrorism charge in the indictment.
"The investigation continues, but there is no known or specific additional threat that comes out of this investigation," he said.
Authorities say Kodirov stayed in the United States illegally after his student visa was revoked -- and he obtained a machine gun and a grenade.
He was arrested July 13 at a motel in Leeds, Alabama, after he obtained the machine gun from an undercover agent, the Justice Department said.
In an affidavit filed that day with a search warrant request for a room at the extended-stay motel -- the suspect's apparent home -- U.S. Secret Service Special Agent Todd Matney said Kodirov contacted "an FBI confidential reliable source" on July 9 and 10 and "made inquiry regarding possible ways to kill President Obama, including shooting the president from a long distance," and asked for help.
Not knowing the person he was speaking to was a confidential source for the authorities, "Kodirov specifically provided information ... pertaining to long range sniper rifles" and also asked about using explosives, saying "that he did not care if he lost his own life killing President Obama," Matney said in the affidavit.
"On or about July 11, Kodirov" told a second confidential source that he wished to kill Obama and asked for assistance.
The second source "knows Kodirov to be a very strict Muslim, who has previously expressed support for Islamic extremists," the affidavit says. The source knows that "Kodirov views jihadist websites and Internet content" on a laptop in his residence, the affidavit said.
Items to be seized at the residence included computers, mobile phones and other documents, the affidavit said.
"There is probable cause to believe" that documents including information about "possible co-conspirators," as well as "sniper rifles and other long range weaponry, assault rifles, hand guns, explosives, weapons training and tactic manuals, documentation related to assassinations, Jihadist manuals and training manuals" were at the premises, the affidavit said.
The affidavit notes that authorities also wanted to search a vehicle that had a license plate registered to Kodirov, but that authorities did not believe currently belonged to him. His roommate from Sri Lanka drove the car and Kodirov had been seen as a passenger, the affidavit said.
Authorities have not detailed what they collected in their search.
Bell said he is "waiting to receive and review the evidence."
Arraignment is scheduled for August 11, authorities said.
Kodirov came to the United States in June 2009 and remained in the country after his student visa was revoked, the Justice Department said. His student visa was revoked in April 2010 because he had not stayed in school.
He faces a maximum of five years in prison for every count of threatening the president and up to 10 years for each of three weapons charges, the Justice Department said.
Several agencies, including the FBI and the Secret Service, worked on the case. Matney is assigned to the FBI's Joint Terrorism Task Force in Birmingham.
"Federal and local law enforcement effectively coordinated to investigate a threat," U.S. Attorney Joyce White Vance said.
CNN's Carol Cratty contributed to this report.
FOLLOW THIS TOPIC