Blagojevich lawyers aim to try, try, try again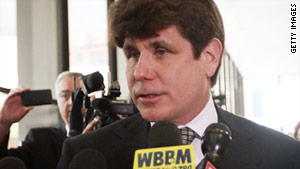 Former Gov. Rod Blagojevich speaks to the media following a guilty verdict in his corruption retrial last month.
STORY HIGHLIGHTS
NEW: "Blagojevich never stood a chance at a fair trial," the motion says
Lawyers for the ex-Illinois governor file a document citing alleged errors in his retrial
They say at retrial, witnesses "wrongly translated innocent conversations into crimes"
He was found not guilty of most counts at first trial, convicted of 17 corruption charges at retrial
Chicago (CNN) -- Lawyers for former Illinois Gov. Rod Blagojevich have filed in federal court a laundry list of alleged errors in his retrial -- which ended last month in his conviction on public corruption charges -- and asked for yet another trial.
"Rod Blagojevich was convicted based on the speculations and inferences of government witnesses (through their 'understandings') who wrongly translated innocent conversations into crimes," the document says.
The 158-page motion for judgment of acquittal, arrest of judgment or a new trial was filed Monday in U.S. District Court for the Northern District of Illinois Eastern Division.
It takes aim at prosecutors and the judge, beginning with alleged pretrial errors and ending with the court's allegedly improper denial of Blagojevich's motions for a mistrial.
"Manipulative tactics which violate the spirit of double jeopardy were used at every turn," it says. "Increasingly as trial went on, the defense was handicapped and prevented from presenting a defense or upholding Blagojevich's most fundamental constitutional rights. The jury was left with only one version of events -- that of the government. With virtually no corroborating evidence admitted, the defense was doomed as the jury spent hour after hour, day after day playing and replaying the government's admitted wiretaps."
The lawyers called for what would be the third trial for the 54-year-old. "This is not a case of overwhelming evidence of guilt," they wrote. "It is a case of overwhelming bias against the defense in which the playing field was so unlevel that Blagojevich never stood a chance at a fair trial."
U.S. attorney's office spokesman Randall Samborn said the government would not comment on the motion out of court.
The former governor was accused of trying to profit as he considered whom to appoint to succeed Barack Obama when he vacated his Senate seat to move to the White House.
Blagojevich was taken into federal custody in December 2008, less than two years into his second term as governor. A federal grand jury indicted in him April 2009.
He was impeached by Illinois' House of Representatives and removed from office by the state Senate in 2009.
Last August, a jury deadlocked on 23 of the 24 charges Blagojevich then faced. The jury found him guilty on one count of lying to FBI investigators, a conviction that could carry a prison sentence of five years.
Last month, another jury convicted him on 17 of the 20 public corruption charges he faced. He has not yet been sentenced.