Judge signs extradition order for former 'Survivor' producer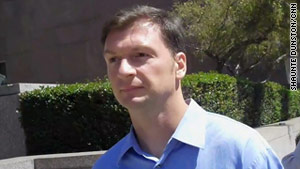 Former reality TV producer Bruce Beresford-Redman is accused of killing his wife during a Mexican vacation.
STORY HIGHLIGHTS
Defense lawyers can begin their appeal now the order's signed, a lawyer says
Bruce Beresford-Redman is charged with killing his wife at a Mexico resort
Appeal could keep him out of Mexico for another year, his attorney says
The defendant worked as a producer on "Survivor" and other reality shows
Los Angeles (CNN) -- A federal magistrate judge signed an order Tuesday certifying that requirements have been met for former reality TV producer Bruce Beresford-Redman to be extradited to Mexico for trial on charges of killing his wife, a defense lawyer confirmed.
The issuance of the extradition order clears the way for defense lawyers to file a writ of habeas corpus, their next legal avenue for preventing Beresford-Redman's return to Mexico, attorney Vicki Podberesky said.
Mexican prosecutors charged Beresford-Redman, 40, last year with the aggravated murder of Monica Burgos Beresford-Redman while the couple and their two young children vacationed at a Cancun resort.
The judge ruled after a hearing two weeks ago that there is enough evidence that Beresford-Redman killed his wife to justify his extradition.
The appeal by Beresford-Redman, once a producer on TV's "Survivor," could keep him in the United States for another year, his defense lawyers said.
Mexican prosecutors contend that Beresford-Redman killed his wife by asphyxiating her in their room at the Moon Palace Resort on April 5, 2010.
Beresford-Redman's lawyers accuse Mexican investigators of rushing to judgment in charging the husband because they wanted to protect Cancun's valuable tourist industry. The case is "replete with inconsistencies and unsupported innuendos," attorney Richard Hirsch said.
The Cancun trip was intended to help the couple work out their marital problems caused by the producer's affair with another woman, his lawyers said. But prosecutors contend it was murder, not reconciliation, on Beresford-Redman's mind.
"The fugitive's continued infidelity provides a strong motive for him to have committed the crime," U.S. prosecutors wrote in an extradition filing. "The fugitive's affair was still an issue with the couple during their trip."
FOLLOW THIS TOPIC