Detroit child fatally strangled, burned; body found in vacant building
STORY HIGHLIGHTS
NEW: The mother of a missing girl is "heartbroken," believes her daughter is still alive
An autopsy is conducted in Michigan for a 5- to 7-year-old girl found in charred building
The girl died by "asphyxia homicide," the medical examiner ruled
A police officer says "we're totally not linking" the death and an Amber Alert for a local girl
(CNN) -- A young girl was fatally strangled before being burned "beyond recognition" in a Detroit building, a medical examiner's report released Monday found.
An autopsy conducted by the Wayne County medical examiner's office on Monday morning -- a day after the body was found in a vacant residence -- determined that the girl died by "asphyxia homicide," said Dennis Niemiec, a spokesman for the office.
Her skull had been crushed and she'd been significantly burned, but both happened after she was killed, he said.
"Any time a child is found dead, it's devastating," Niemiec said Monday afternoon. "You don't get used to it."
The medical examiner concluded that she was a 5- to 7-year-old girl, but has not identified her by name.
The girl's body is "beyond recognition," making it unrealistic that she could be identified by a relative or loved one, the spokesman added.
Detroit Police Officer Dan Donakowski said police are investigating this girl's death as a homicide.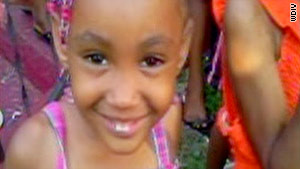 Mariha Trenice Smith, 5, was reported missing Sunday.
Meanwhile, an Amber Alert remains in effect for Mariha Trenice Smith, a 5-year-old girl who was reported missing Sunday, Donakowski said.
The mother of the girl last saw her between 3 a.m. and noon sleeping on a floor in the family's home, according to the alert. Detroit police said the child was taken from the home by "an unknown abductor" sometime during this period.
A poster from the National Center for Missing and Exploited Children describes the girl as African-American, weighing 30 pounds and standing 3 feet tall.
The girl's mother, Konesha Smith, told CNN affiliate WDIV that her daughter doesn't wander off on her own. Still, despite her angst, the woman said she believed her daughter is alive "because too many people say they've seen her."
"I'm heartbroken so bad, because I see this stuff on the news every day," Smith said.
The home in which the alleged abduction occurred is about 15 blocks from where the girl's body was discovered in the charred building.
But Donakowski said police currently are approaching the two cases separately.
"We're totally not linking it together," he said. "At this time, it's a separate investigation."
FOLLOW THIS TOPIC