Georgia prisoner executed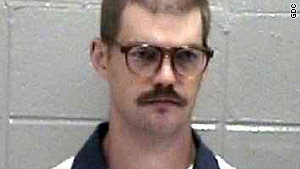 Andrew Grant DeYoung was convicted of stabbing his parents and sister to death in 1995.
STORY HIGHLIGHTS
NEW: Andrew Grant DeYoung is executed by lethal injection
He was convicted of killing his parents and sister
At the defense's request, a lower court allows for a videotaping of the execution
(CNN) -- In a case that drew national attention because it was to be videotaped, convicted murderer Andrew Grant DeYoung was executed by lethal injection Thursday night, a corrections department spokeswoman said.
DeYoung was declared dead at 8:04 p.m. at the Georgia Diagnostic and Classification Prison in Jackson, said Joan Heath, the spokeswoman. His last words were: "I'm sorry for everyone I've hurt," according to the Atlanta Journal-Constitution, which was one of the media outlets granted access to the execution.

The execution occurred after the state Supreme Court denied DeYoung's motion to take another look at a lower court judge's decision Tuesday allowing the state to replace sodium thiopental with pentobarbital as the anesthetizing agent in the execution, the court's statement said.
That lower court judge's ruling, however, did approve the rare videotaping of the execution at the request of DeYoung's attorneys, who argued that the substitution of drugs would cause needless pain and suffering.
For the first time in Georgia, a videographer was present in the execution chamber to document DeYoung's death and his reaction to a new three-drug lethal injection that anti-death penalty activists said caused unnecessary pain and suffering, according to reports in the Atlanta Journal-Constitution.

On October 13, 1995, DeYoung was convicted in Cobb County of fatally stabbing his parents, Kathryn and Gary DeYoung, and his 14-year-old sister, Sarah.
His final meal was an institutional one -- chicken and rice, Heath said.
DeYoung's special request for pizza, breadsticks, all-fruit strawberry preserves, Concord grape juice and vanilla ice cream was carried out on Wednesday, Heath said.
With Thursday's execution, Georgia has put to death 51 men since the U.S. Supreme Court reinstated the death penalty in 1973. DeYoung was the 28th inmate put to death by lethal injection, the state corrections department said.
CNN's Bill Mears and Michael Martinez contributed to this report.
FOLLOW THIS TOPIC