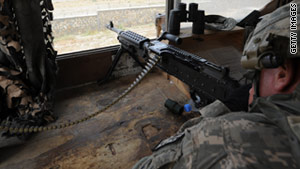 Several soldiers of a 2nd Infantry Division brigade operating near Kandahar are charged with taking pictures of the corpses, and one soldier is charged with stabbing a corpse.
STORY HIGHLIGHTS
NEW: An Army private testifies that he and fellow soldiers plotted to kill Afghan civilians
NEW: The testimony came in a hearing for Sgt. Calvin Gibbs
The Army sergeant allegedly led a rogue group of 12 soldiers
The are accused of killing unarmed Afghan civilians
Joint Base Lewis-Mcchord, Washington (CNN) -- "Sgt. Gibbs asked if we were OK to go ahead and shoot this guy. We said 'yeah,'" Army Pvt. Jeremy Morlock testified Thursday in a hearing for one of a group of U.S. soldiers accused of forming a rogue "kill squad" while fighting in Afghanistan.
Morlock's testimony came after an investigating officer -- the military court systemıs equivalent of a judge -- ordered that pre-trial proceedings for Sgt. Calvin Gibbs, the alleged ringleader of the group, be reopened.
Gibbs had previously undergone a similar pre-trial hearing in November 2010 and was ordered to face court martial on charges including shooting and throwing grenades at unarmed civilians. That court martial is tentatively scheduled for October, a base spokesman said, based on the outcome of the reopened proceedings.
Gibbs' attorneys had asked for the hearing to question Morlock, who pleaded guilty in March to killing three Afghan civilians for thrills and covering up the murders.
"Up until now, we have had to rely on statements," Gibbs attorney Phillip Stackhouse told CNN before the hearing Thursday. "This will be our first chance to interview some of these witnesses."
Gibbs and Morlock are among 12 soldiers from the 5th Stryker Brigade accused of taking part in a plot to murder three Afghan civilians, plant weapons on them and cover up the alleged crimes.
Gibbs is accused of cutting off some of the men's body parts to keep as war trophies. He faces a potential life sentence in a military prison if convicted and has said the killings were justified under Army rules of engagement.
Morlock has already been sentenced to 24 years in prison.
In a low, often mumbling voice, Morlock Thursday detailed how he and his fellow soldiers abused drugs and after Gibbs joined their ranks they plotted to kill Afghan civilians and plant "drop weapons" on the men to make them appear as if they were insurgents.
Morlock said he and Gibbs talked about how the "drop weapons" would make it look like the soldiers had first come under attack before firing. They left the timing of the alleged killings, he said, up to chance.
"There was never anything planned," Morlock testified. "Like this date, this time. We found an opportunity."
Several soldiers are also charged with taking pictures of the corpses, and one soldier is charged with stabbing a corpse.
The German news outlet Der Spiegel published photographs of what it identified as Morlock and another soldier posing over the bodies of dead Afghans.
Two images show the soldiers kneeling by a bloody body sprawled over a patch of sand and grass. A third shows what appears to be two bodies propped up, back to back, against a post in front of a military vehicle.
The photographs were "repugnant to us as human beings and contrary to the standards and values of the United States Army," the "Army said in a statement.
"We apologize for the distress these photos cause," the Army's statement added.
Army officials asserted in the statement that ongoing court-martial proceedings related to the alleged atrocities "speak for themselves."
Army prosecutors have painted a picture of Gibbs as the ringleader of the group who allegedly pressured his fellow soldiers into targeting civilians and who tattooed skulls on his legs to keep track of his own alleged body count.
But during the Thursday hearing, Morlock said he and other soldiers had discussed killing civilians during their tour in Afghanistan even before Gibbs allegedly came to them with a plan.
"It wasn't a completely new conversation," Morlock told the court. "It wasn't far-fetched. Rolling around our minds I guess."
The hearing is scheduled to last through Friday.
All the accused men were members of a 2nd Infantry Division brigade operating near Kandahar in southern Afghanistan in 2009 and 2010.
In addition to Gibbs, Adam Winfield, of Cape Coral, Florida; and Spc. Michael Wagnon, of Las Vegas also face murder charges.
Staff Sgt. David Bram of Vacaville, California, faces charges including soliciting the murder of an Afghan civilian.
The other men face a variety of charges including helping to cover up the killings and intimidating other soldiers to keep quiet about the alleged plot and alleged drug use in the unit.
FOLLOW THIS TOPIC