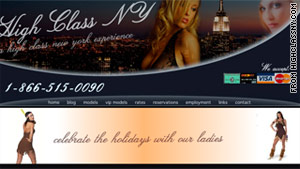 High Class NY is an escort service based in the Sheepshead Bay neighborhood of Brooklyn.
STORY HIGHLIGHTS
NEW: Attorney: Any sexual activity was "beyond the scope" of the models' employment
Charges include promoting prostitution and sale of a controlled substance
Clients would pay thousands for a night with "escorts," the district attorney says
Names of shell companies would mask the charges on credit card bills, the DA says
New York (CNN) -- Seventeen people and five "corporations" connected to a New York City escort service were indicted in Brooklyn Wednesday, charged with running a high-price prostitution and drug ring.
The alleged racket earned more than $7 million in three years, catering to high-rolling customers who could drop more than $10,000 a night, according to the Kings County District Attorney's Office.
The 144-count indictment includes allegations of enterprise corruption, promoting prostitution, money laundering, and criminal sale of a controlled substance against High Class NY, an escort service based in the Sheepshead Bay neighborhood of Brooklyn.
Among the individuals named in the documents are High Class NY's owners: Mikhail Yampolsky; his wife, Bronislava; a son, Alexander; and a stepson, Jonathan Yampolskaya. Eleven High Class NY managers and two of the escort service's largest financial investors, Efim Gorelik and Yakov Maystrovich, also are indicted. They could face up to 25 years in prison if convicted.
"We are not going to run from this. We intend to fight these charges," said Joseph Mure, attorney for Yampolskaya and the younger Yampolsky.
Two escorts are separately indicted on prostitution and drug-related charges.
Fees for High Class NY's escort services allegedly ranged from $400 per hour to more than $3,600 per hour, and clients often spent more than $10,000 in one night, according to the indictment. Authorities claim the money paid for sexual contact with the escorts as well as cocaine and other controlled substances.
The indictment charges that High Class NY concealed client's credit card charges in monthly billing statements. The names of five shell corporations were used on the billing statements in place of High Class NY, the prosecutor's office said.
Escorts, called "models," were required to sign employment contracts prohibiting sexual contact with clients in an effort to mask the illegal nature of the business, the indictment says.
"There is no such thing as a high-class pimp, and as we do with all other pimps, my office will prosecute these defendants and seek the maximum sentences available under the law," said District Attorney Charles J. Hynes.
The indictment charges the High Class NY operates several escort websites, including highclassny.com, discreteclub.com, nyadultdating.com, cupiddirect.com, and angelofyourchoice.com, in addition to advertising its services on backpage.com and craigslist.com.
"If any models were engaged in sexual activities, it was beyond the scope of their employment," said Albert Y. Dayan, the Yampolskys' attorney. He also asserted that prosecutors have failed to make the case of enterprise corruption against his clients because they cannot establish the alleged prostitution ring as a criminal enterprise.
According to the company's records, the escort service earned more than $7 million between September 2007 and November 2010, according to the indictment. Yampolsky faces charges of laundering these profits to hide the illegal income.
Yampolskaya and the Yampolskys pleaded not guilty at an arraignment Wednesday afternoon.