STORY HIGHLIGHTS
Sheriff's deputies had two contingency plans
"This release had an unusual amount of security," county corrections spokesman says
Anthony is given $537.68 from her inmate account
The SUV carrying her heads to her lawyer's office
(CNN) -- Casey Anthony walked free from a Florida jail early Sunday morning, three years and one day after she was first arrested for her role in the disappearance and, eventually, death of her 2-year-old daughter.
Anthony walked out of the front door of the Orange County Jail at 12:09 a.m. with her lawyer by her side and two Special Response Team officers with green vests.
Sheriff's deputies had two contingency plans laid out, but in the end opted to go with a public release.
"We have made every effort to not provide any special treatment for her," said Allen Moore, the spokesman for the Orange County Corrections Department in a statement. "She has been treated like every other inmate in her custody class."
Anthony had not received threats against her at the jail, but "this release had an unusual amount of security. So therefore, in that sense, it would not be a normal release," Moore said.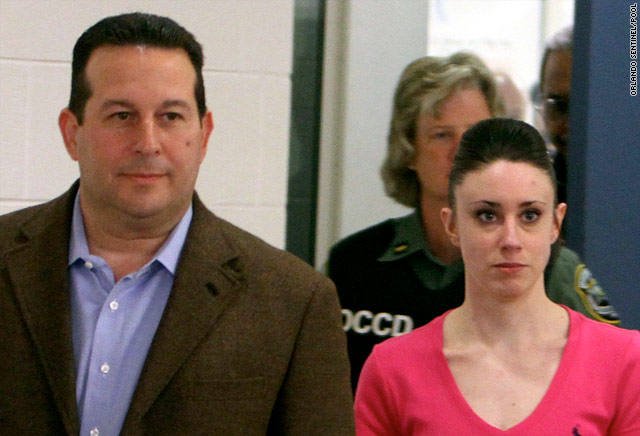 Gallery: Casey Anthony freed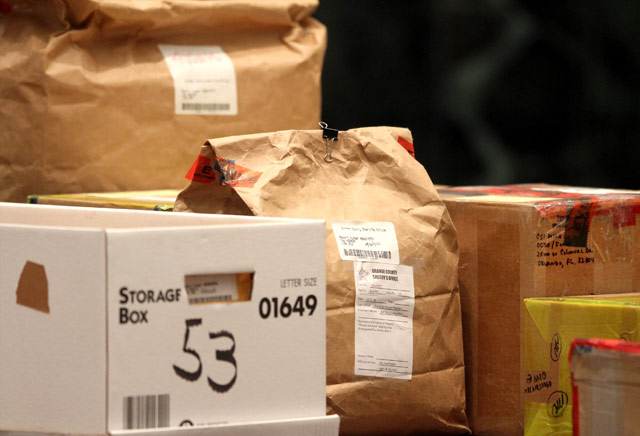 Gallery: Evidence in Casey Anthony trial

Was Casey an incest victim?

Nancy Grace: 'Tot mom' caught on tape
With $537.68 from her inmate account handed to her, Anthony offered a quick thanks to a Special Response Team sergeant.
She then walked out of the jail building doors and into a dark-colored sport utility vehicle.
Her hair was pulled up in a tight bun and she had on a bright pink V-neck T-shirt, blue jeans and sneakers. She did not show any emotion.
Given the threats against her life by those furious at the not-guilty verdict, Anthony's lawyers have not said where she will go next.
News helicopters that tracked the SUV showed it head to downtown Orlando and into the parking garage of her lawyer Cheney Mason's office.
Throngs of television camera crews and a crowd of about 1,000 people were at hand outside the jail to witness the release.
Most of those who waved placards in the jail parking lot were there to voice their opposition to Anthony's release, but they did so peacefully.
Police, some on horseback, kept a wary eye.
As Anthony left, some demonstrators shouted and jeered. Some screamed, "Killer!"
The Orlando woman's release comes 12 days after a jury acquitted her on murder and child neglect charges. That verdict brought an abrupt end to a six-week trial that drew intense media hype for its elements of family drama and mystery over what happened to young Caylee Anthony.
While Anthony was cleared on the more serious charges, the jury of seven women and five men did convict her on four counts of misleading law enforcement agents who were investigating Caylee's whereabouts.
Orange County Superior Court Chief Judge Belvin Perry Jr. gave Anthony credit for time served in determining the release date.
She was initially taken into custody on July 16, 2008, and had been jailed -- with some brief exceptions, having been freed on bail on multiple occasions -- for most of the past three years.
Her toddler girl's skeletal remains were eventually found in a wooded field not far from the home of Casey Anthony's parents in December 2008, seven months after she was last seen.
Protesters on Sunday staged a silent march between the parents' home and where the toddler's remains were found, which has been turned into a memorial site. They said they wanted the day to be about Caylee and not about Anthony being released from jail.
Prosecutors tried, unsuccessfully, to convince jurors that Anthony used chloroform to render her daughter unconscious and then duct-taped her mouth and nose to suffocate her. Her defense lawyers, meanwhile, painted Caylee's death as an accident, claiming that she'd drowned accidentally at the family pool and that Casey and her father George Anthony both covered it up.
The questions about how Caylee died, and who was responsible, remain open. But a more immediate issue is what happens next to the girl's mother, who attracted intense anger, revulsion and even sympathy from a public that she will once again be a part of.
While there have been cash donations to her jailhouse account, the more widespread sentiment is against Casey Anthony, with many believing she got away with killing her daughter.
This fury has led to speculation that the polarizing subject of the "I Hate Casey Anthony" Facebook page -- and the source of ire for its more than 40,000 fans -- might change her name and appearance, and move someplace far away.
"If her attorneys are doing the right thing and are doing their jobs, they're going to have to explain to her that there is real hatred out there for her, that there have been death threats, that she cannot just walk amongst the population," HLN legal contributor Sunny Hostin said. "That is not just going to happen."

Deposition pushed back

Social media influenced Anthony trial?
Florida corrections officials, and Anthony's lawyers, have offered few details. That's in part likely due to the intense emotions Anthony's release has generated.
"I know it's bad God Forgive me but i hope someone wipes that smirk off her face. With a mack truck," one poster on the "I Hate Casey Anthony" Facebook page wrote.
Visiting the Orlando site where Caylee's remains were found, Rebecca Stone said she believed the toddler's mother "put her here" -- even if the jury did not reach the same conclusion.
When asked about what's next for Casey Anthony, the Flowery Branch, Georgia, mother of two told CNN, "I don't think she will be alive for long."
An Oklahoma woman said she has already faced the kind of ire Anthony may face when she's no longer behind the protective walls of the Orange County Jail.
Sammy Blackwell told CNN affiliate KOTV that a woman who mistook her for Anthony on July 8 rammed her car twice, flipping it over.
"She said that I was trying to hurt babies, I was killing babies and she was going to stop it before it happened again," Blackwell told the station.
As it happens, Blackwell has a daughter named Caylee too, but that's the end of the similarities. She says she really doesn't even look that much like Anthony and worries for women who do.
Orange County Sheriff Jerry Demings said Tuesday that investigators are assessing threats to Anthony's safety. While he said the department was not aware of any credible threats to her life, it's a concern that was clearly on his mind.
"Nobody has a right to take the law in their own hands," he said. "Casey Anthony had her day in court and the jury made a decision. I would hope people would step back and would not go out and commit another crime."
It's also a concern for her attorneys.
"Myself and other members of the team are concerned for her safety, very much so," one of her attorneys, Dorothy Sims, told HLN.
What Anthony will do now is unclear.
"If I knew at this point, I'm sure you can appreciate that I wouldn't tell you," Sims said. "I don't believe that that has been resolved. My hope for her would be that she would be left alone and her privacy would be respected."
Hostin said on CNN that she's heard reports that Anthony will go into hiding, live under an assumed name or get plastic surgery.
"But I think we are going to hear her story, because people have offered her a million dollars already for her story," she said.
Anthony also still has legal issues to deal with.
Her criminal team is appealing her convictions for misleading police, and she is being sued in two separate actions in civil court. One is filed by a woman with the same name Anthony gave to investigators as the name of her daughter's fictitious nanny. The other involves a search group that wants Anthony to repay expenses they incurred looking for Caylee.
Anthony may be offered money for book and movie deals, but one offer won't be on the table.
Playboy founder Hugh Hefner told CNN's Piers Morgan that the magazine won't be offering Anthony a pictorial.
"I wouldn't reward someone like that for what has happened," Hefner said.
Defense attorney Mason, who once said he thought of Anthony as a granddaughter, said he doesn't know what life holds in store for his client, but has hopes.
"She is only 25 years old. A decade from now, hopefully, she'll have some stability in her life and maybe a husband, and they can be somewhere in Montana and start over," he said.
CNN's Greg Botelho, Martin Savidge and journalists Mike Pearson and Catherine Callaway contributed to this report.
FOLLOW THIS TOPIC