Judge in Casey Anthony defamation suit delays deposition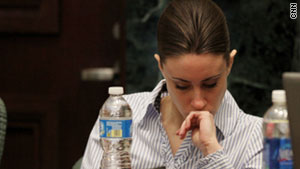 Casey Anthony was acquitted July 5 of murder and child neglect charges in her daughter's death.
STORY HIGHLIGHTS
NEW: Casey Anthony will be deposed October 8
NEW: Anthony's attorney says he is concerned about her mental state
A new judge is assigned to the Anthony defamation lawsuit
Plaintiff is woman with the same name as the nanny she said took her daughter
Orlando (CNN) -- The judge handling the defamation lawsuit against Casey Anthony said Friday that the Florida woman will be deposed October 8, not Tuesday as was planned.
Attorneys for the woman suing Anthony had asked the judge to require her to submit to questioning earlier, saying they feared she might disappear once she is released from jail this weekend.
"There's a legitimate concern," attorney Keith Mitnik argued during an afternoon hearing with Judge Lisa Munyon. "If she leaves, I may never be able to take her deposition."
Anthony, 25, is being sued in civil court by a woman named Zenaida Gonzalez. Anthony told investigators that was the name of her 2-year-old daughter Caylee's nanny and that the woman had taken the girl and disappeared.
Investigators were never able to find evidence that such a woman existed but were able to find Gonzalez, who denied knowing Anthony or her daughter. Gonzalez said Anthony's accusations turned her life upside down and led to death threats against her and her children.

Fans send cash to Casey Anthony in jail

PR advice for Casey Anthony

Social media influenced Anthony trial?
Two-year-old Caylee's remains were found in a wooded field not far from the Anthony's home. Anthony was acquitted July 5 of murder and child neglect charges in her daughter's death. The jury did convict her of lying to investigators, and she is expected to be released from jail Sunday.
The lawsuit is separate from those charges.
Anthony's attorney, Charles Greene, said Friday that he is concerned about her mental state and accused opposing counsel of forcing the original deposition date.
"They have tried to shove this deposition down my throat," he said.
Greene also argued to keep the date of the deposition secret because of repeated death threats that have been made against his client.
Munyon denied that request and set Anthony's deposition for October 8, a date that will stand unless both parties agree to change it. She did not say where the deposition will take place.
Attorneys for Gonzalez are expected to serve her with a subpoena for the October deposition before she is released from jail. Anthony will probably invoke her Fifth Amendment right against self-incrimination, according to Greene.
Munyon ruled after Judge Jose Rodriguez announced without explanation that the case would be assigned to another judge Friday. The civil trial date, scheduled for February, is now in question, as it may have to be moved to fit the new judge's calendar.

Part of complete coverage on

Jose Angel Baez, the workhorse lawyer who won acquittals for Casey Anthony at the most-watched murder trial in years, may be either the best criminal defense attorney in America -- or the luckiest.

Don't be surprised if Casey Anthony walks out of jail a free woman after her sentencing Thursday, legal experts say.

Media should reflect on its coverage of Casey Anthony after she was found not guilty, CNN legal analyst Jeffrey Toobin said.

From the instant word came that Anthony was found not guilty of murdering her daughter, online networking sites were flooded with commentary.

A quick verdict or a lengthy deliberation: Either one is a sign of 12 people determined to do the best they can.


Most popular stories right now