Prosecution, defense show strategy as Clemens perjury trial begins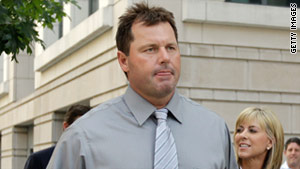 Former MLB pitcher Roger Clemens is accused of lying to Congress about using performance-enhancing drugs.
STORY HIGHLIGHTS
NEW: Opening statements give previews of upcoming testimony
Baseball legend Roger Clemens is fighting a six-count federal indictment
He faces charges of perjury, making false statement and obstruction of Congress
The charges stem from allegations of steroid and human growth hormone use
Washington (CNN) -- Prosecutors in Roger Clemens' perjury trial wasted no time Wednesday telling the jury what they plan to show them.
During opening statements, Assistant U.S. Attorney Steven Durham said prosecutors plan to introduce physical evidence in the form of needles and used cotton swabs -- evidence they say contains the former baseball star's DNA as well as residue from anabolic steroids.
Clemens is facing charges of perjury, making false statements and obstruction of Congress about his alleged use of steroids and human growth hormone. The former all-star pitcher testified under oath before the House Oversight and Government Reform Committee in 2008 that he never used illegal performance-enhancing substances during his career.
Prosecutors say Clemens was never pressured to testify.

2008: Roger Clemens denies steroid use
"This man was not subpoenaed, not forced... he was invited," said Durham.
Clemens' defense team took issue with that assertion. Lead defense counsel Rusty Hardin said Clemens' lawyers at that time tried to convince Congress not to call Clemens to testify. Hardin said Clemens was effectively cornered when he was told he would be subpoenaed if he refused to testify.
"Congress dared him to say under oath (that he never took drugs) and then charged him," said Hardin.
It appeared Wednesday that the prosecution is counting on the testimony and evidence from Brian McNamee to carry their case. McNamee is a former strength and conditioning coach who claims to have injected Clemens with steroids and human growth hormone.
Prosecutors said McNamee held on to the physical evidence for one simple reason. "He never completely trusted this man," said Durham.
The Clemens defense team is expected to attack the credibility of McNamee throughout the trial.
"Brian McNamee is a liar. He was a liar before this started. He's still lying to the government," said Hardin.
Clemens' alleged use of performance-enhancing drugs first came to light when his name was one of dozens listed in an investigative report by former senator George Mitchell.
During his playing career, Clemens was one of the most feared pitchers in all of baseball. He retired with 4,672 strikeouts in addition to two World Series titles and 7 Cy Young awards.
If convicted, Clemens could face a maximum sentence of 30 years in prison and a $1.5 million fine.
FOLLOW THIS TOPIC