STORY HIGHLIGHTS
NEW: A suspect is charged with murder, police say
The boy became lost while walking and asked for directions, police say
Some remains were found in a freezer in the suspect's apartment, police say
The 8-year-old boy had been missing since Monday, police say
New York (CNN) -- Police charged a New York man with murder Wednesday night after they said officers found human remains in the man's refrigerator and a trash bin.
Authorities believe the remains are those of a missing 8-year-old boy.
Police say the 35-year-old suspect made statements Wednesday implicating himself in the death of Leiby Kleztky, a member of the close-knit Orthodox Jewish community in the Borough Park neighborhood of Brooklyn who went missing Monday afternoon.
At a news conference earlier Wednesday, Police Commissioner Ray Kelly identified the suspect as Levi Aron. Kelly said detectives found the remains in a freezer at the Aron's third-floor attic apartment and in a trash bin more than two miles away, wrapped in a black plastic garbage bag inside a suitcase.

'I've been in total shock'

Gruesome discovery of dead boy
Kleztky was supposed to meet his parents after walking seven blocks from his summer day camp, but became lost and asked the suspect for directions, Kelly said.
Surveillance video showed Aron entering a dentist's office Monday while Kleztky waited for him across the street for seven minutes, Kelly said.
Police were able confirm the suspect's identity through the dental office's records.
According to Kelly, police showed up at Aron's residence at 2:40 a.m. Wednesday and asked him about Kleztky's whereabouts. The suspect pointed them to the kitchen, where blood was visible on the freezer handle. Inside the refrigerator was a cutting board with three blood-spattered carving knives, Kelly said.
Some of the remains were in the freezer and others were in the trash bin two and a half miles away, Kelly said.
Aron, a clerk at a maintenance supply company, did not appear to have known Kleztky, Kelly said. His only known criminal summons was for urinating in public last year.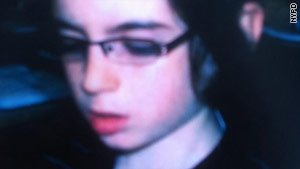 Leiby Kleztky, 8, went missing Monday afternoon in New York.
Kelly said that statements made by the suspect indicated that he kidnapped Kleztky and, as a neighborhood search for the boy intensified, he became panicked and killed him.
Aron is a member of the Orthodox Jewish community in the neighboring area of Kensington, said state Assemblyman Dov Hikind of Brooklyn.
"We're all in shock," Hikind said of the people in his district. "What kind of people are out there that are capable of creating these dastardly acts?"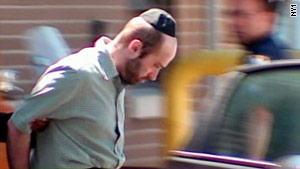 Police say the 35-year-old Levi Aron made statements Wednesday implicating himself in the death of Leiby Kletzky.
CNN affiliate WREG in Memphis, Tennessee, interviewed Aron's former wife, Debbie Aron, who lives in Memphis.
"Nobody knows what's going on. I'm just now finding out information. I've been in total shock since my phone has been ringing off the hook at 8 o'clock this morning," Debbie Aron said, according to the station.
After Kleztky went missing Monday, residents joined with local and federal authorities in a massive search effort.
FBI spokesman Jim Margolis said the FBI assisted in interviewing witnesses and deployed the FBI's Crimes Against Children squad.
Kings County District Attorney Charles J. Hynes released a statement Wednesday afternoon saying he was directing his staff to ask a grand jury for the "maximum charges permitted by law" for "the vicious and callous murder and dismemberment of eight-year-old Leiby Kletzky."