Strauss-Kahn hearing delayed two weeks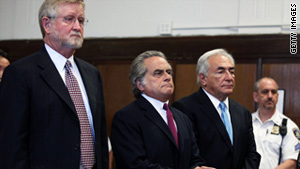 Dominique Strauss-Kahn, right, stands with his lawyers at a court hearing on July 1.
STORY HIGHLIGHTS
Strauss-Kahn had been scheduled for a hearing on July 18
He has pleaded not guilty to charges of sexual abuse and attempted rape
The allegations were made by a hotel maid in New York
Prosecutors say they are not finished with their investigation
New York (CNN) -- A hearing in the sex assault case against French financier Dominique Strauss-Kahn has been delayed two weeks to August 1 because prosecutors say they're not through with their investigation.
Strauss-Kahn's attorneys did not object to the delay from the originally scheduled hearing date of July 18.
Erin Duggan, communications director for Manhattan District Attorney Cyrus Vance, said the delay is because prosecutors are still trying to determine whether to drop the charges or move forward in the case against Strauss-Kahn.
"The investigation into this case is continuing. No decisions have been made," Duggan said. "This is a routine request for additional time," Duggan added.
Attorneys William W. Taylor and Benjamin Brafman, who represent Strauss-Kahn, said in a joint statement they hope that, "during this time, the District Attorney will make the necessary decision to dismiss the case against Mr. Strauss-Kahn."
The 62-year-old former chief of the International Monetary Fund is charged with sexual abuse and attempted rape of a hotel maid in May.
Prosecuting attorneys have been debating whether credibility issues raised about the maid who accused Strauss-Kahn are surmountable.
Strauss-Kahn has pleaded not guilty. After a meeting with prosecutors last week, his attorneys insisted he "will not plead guilty to anything."
He remains free on his own recognizance until his next scheduled court date, now August 1.
A spokeswoman for Ken Thompson, a civil attorney representing the maid, had no comment on the hearing delay.
CNN's Susan Candiotti and Eden Pontz contributed to this report.
FOLLOW THIS TOPIC