Ex-director of Illinois cemetery sentenced in burial scheme
STORY HIGHLIGHTS
The allegations against Burr Oak Cemetery surfaced in 2009
Cemetery boss, workers accused of "double stacking" graves
Carolyn Towns pleads guilty, is sentenced to 12 years in prison
Towns' attorney says client is "very remorseful"
(CNN) -- The former director of a Chicago-area cemetery where hundreds of graves were dug up and resold has pleaded guilty to several charges involving the desecration of human remains.
Carolyn Towns, 51, who ran the Burr Oak Cemetery when the allegations surfaced in 2009, was sentenced to 12 years in prison Friday after she pleaded guilty to all charges against her, including dismembering a human body and theft from a place of worship, according to state prosecutors in Cook County, Illinois.
Three grave diggers face charges.
As part of the scheme, prosecutors said, the grave diggers would exhume bodies, crushing vaults and caskets before dumping human remains at the cemetery's trash site.
The workers would "double stack" graves, meaning they would bury existing remains deeper into the ground before placing new remains in the same location, authorities said.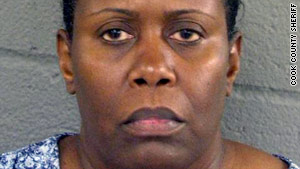 Carolyn Towns, 51, ran the Burr Oak Cemetery when the allegations surfaced in 2009.
Towns "is very remorseful, not only for the pain she caused her family, but the families of people who have loved ones at Burr Oak," defense attorney Susana Ortiz said, according to CNN affiliate WLS. "She accepted responsibility for the allegations in this case, and she would just like to put this behind her and move on with her life."
Weeks after the investigation began, the White House issued a statement clarifying that first lady Michelle Obama's late father, Fraser Robinson III, was not buried in Burr Oak, but in a graveyard a few miles away. The first lady's communications director had mistakenly reported he was buried in Burr Oak.
The Cook County Sheriff's Department received more than 5,000 telephone inquiries and 1,700 e-mails regarding missing relatives, throughout their investigation.
At the time, Sheriff Thomas J. Dart said the scene at the cemetery was disturbing. "I found bones out there," he said. "I found individuals wandering aimlessly looking for their loved ones who can't find them."
The investigation also extended into "Babyland," a section of the cemetery intended for children. Dart said he talked to countless women who could not find their children.
Authorities also discovered the original glass-faced casket belonging to 14-year-old Emmett Till, piled in a garage filled with lawn care equipment.
Thousands rallied behind Till's family after he was violently murdered in August 1955 for reportedly whistling at a white woman. His body was exhumed in 2005 following a renewed investigation into his death. He was reburied in a new casket.
Groundskeepers told investigators Till's body was not disturbed, but the Rev. Jesse Jackson told reporters the desecration of his original casket was very painful.
FOLLOW THIS TOPIC