Wyoming man charged with quadruple-murder in deaths of 3 children, man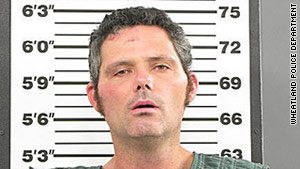 Everett E. Conant III is accused of killing his three children and another relative.
STORY HIGHLIGHTS
NEW: Everett Conant III faces 4 first-degree murder charges, one for attempted murder
NEW: At Friday's arraignment, a Wyoming magistrate orders him held without bond
Police first meet his wife outside, who had been shot and said her children had been, too
After Conant is coaxed from the house, police find the four shooting victims inside
(CNN) -- A Wyoming man was charged Friday with four counts of first-degree murder after, authorities say, he shot dead three of his children and another relative inside his home.
According to the warrant for his arrest, Everett E. Conant III is also charged with attempted first-degree murder, aggravated battery and possession of a deadly weapon with unlawful intent. Magistrate Scott Cole ordered Conant held with no bond, following his arraignment Friday afternoon in Platte County.
In addition to the four dead, law enforcement said that Conant shot and injured an adult woman -- identified in court records as Suzette Ann Conant, the suspect's wife.
Wheatland Police Officer Doug Wiggins wrote in a criminal affidavit that he encountered the woman on the street shortly after 5 p.m. Thursday, soon after he'd arrived to investigate a report of screaming and shots fired.
The woman, who had been shot in the leg and shoulder, identified her husband as the shooter and said her children may have been shot as well, according to the affidavit. She said that Conant was still in the house and armed.
Wiggins said he then confronted the suspect through a doorway, at one point observing something black in his hand during the conversation as well as "what appeared to be a lifeless body of a male juvenile on the couch, surrounded by blood," the affidavit said.
The suspect -- later identified as Conant -- was coaxed out of the home, unarmed, after about 10 minutes and was arrested "without incident."
More officers from Wheatland and the Platte County Sheriff's Office then arrived and went through the house. There, they found the dead bodies of three minors -- who were born between 1993 and 1999, according to charging documents, which did not identify them by name or birthdate.
Another adult male, 33-year-old Nacuma Roland Conant, was found shot and struggling to survive. Officers began efforts to try to save the man's life, but he was later pronounced dead at Platte County Memorial Hospital, according to the affidavit from Wiggins.
The incident occurred in Wheatland, a town of about 2,400 people that is located about 70 miles north of Cheyenne.
Convictions of any of the four first-degree murder charges are punishable, potentially, by the death penalty.
CNN's Greg Botelho contributed to this report.
FOLLOW THIS TOPIC