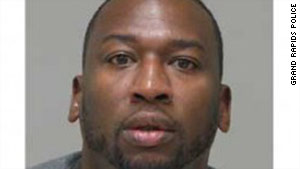 Authorities say Michigan shooting suspect Rodrick Dantzler fatally shot himself during a police standoff.
STORY HIGHLIGHTS
The man allegedly hunted down his ex-girlfriend and others, police say
Police say he shot and killed his daughter and her mother, an ex-girlfriend
Second ex-girlfriend also killed, along with her sister and a 10-year-old girl
"You cannot make sense out of things like this," police chief says
Read more about this story from CNN affilate WOOD.
(CNN) -- A Michigan man went on a killing spree Thursday, hunting down his ex-girlfriend and others before killing himself in an hours-long stand-off with police.
The man, identified as Rodrick Dantzler, killed seven people, including his daughter, and held three others hostage in a Michigan home before firing a shot into his own head, Grand Rapids Police Chief Kevin Belk said Friday.
Dantzler was pronounced dead Thursday after police tried to negotiate with him to release the hostages.
His suicide ended what locals are calling one of the worst killing sprees to hit the area.
"It does not make sense. You cannot make sense out of things like this," Belk said.

Police chief: 'He acted alone'
Grand Rapids Mayor George Heartwell said the shootings have "tested our will under fire."
"It boggles the mind to even imagine that it could even happen here."
Four bodies were found Thursday afternoon at one location and three were discovered at another, police said.
At least two other people were shot and wounded by the suspect, police said.
Belk identified the victims as Dantzler's ex-girfriend Jennifer Marie Heeren, 29, and their 12-year-old daughter Kamrie Deann Heeren-Dantzler.
Jennifer's mother Rebecca Lynn Heeren, 52, and 51-year-old Thomas Heeren, Jennifer's father, were also among those killed.
Finally, ex-girlfriend Kimberlee Ann Emkens, 23, and her 27-year-old sister Amanda Renee Emkens were also killed, along with Amanda's 10-year-old daughter Marissa Lynn Emkens.
"I don't think in my mind that there's any question that this was premeditated," Belk said, noting that Dantzler was in possession of large amounts of ammunition for his .40 caliber semi-automatic handgun.
Authorities say they were first alerted to the gunman when an acquaintance of his called police, saying she was being followed by Dantzler in white Chevy Suburban truck.
Dantzler then pulled up alongside the woman's vehicle and opened fire, Belk said.
Police responded to the scene and exchanged gunfire with the man as he fled.
The gunman then drove his vehicle against traffic in a frantic attempt to out-maneuver authorities, later crashing into a grove of trees, Belk said.
Dantzler left the damaged vehicle and then barged into a nearby home, holding three people hostage as police negotiated with him.
At one point Dantzler let one hostage out of the home, a 53-year-old woman, said Belk. She was unharmed.
The negotiations were tense. The suspect threatened to gun down the hostages and also asked officers to shoot him, police said.
But he also talked about giving himself up -- "right before this thing happened," Belk said.
FOLLOW THIS TOPIC