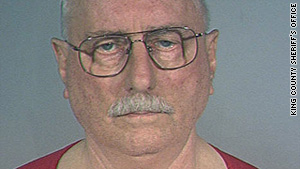 Jack Daniel McCullough, who changed his name when he joined the military, worked as a police officer in the 1970s.
STORY HIGHLIGHTS
Jack Daniel McCullough is accused of killing a 7-year-old girl five decades ago
Maria Ridulph disappeared in December of 1957; her remains were found over a year later
McCullough was an initial suspect in Ridulph's disappearance
After Ridulph's disapparance McCullough moved to Seattle, Washington
(CNN) -- A man accused of killing a 7-year-old girl more than 50 years ago was charged Wednesday with being a fugitive by a Seattle, Washington, district court.
Jack Daniel McCullough, 71, was arrested last week at his home in Seattle. He was charged Friday in the connection with the death and disappearance of Maria Ridulph in 1957 in his hometown of Sycamore, Illinois.
At a hearing Monday, a judge set McCullough's bail at $3 million. Wednesday's new charge is a holding charge that will allow Washington police to continue keep McCullough in custody until he returns to Illinois where he will be prosecuted.
More than 50 years ago, Ridulph was abducted while playing with her friend, Cathy Sigman, near their homes in Illinois. Sigman told police that she and her friend were approached by a man in his early 20s wearing a multi-colored sweater who identified himself as "Johnny," according to the probable cause statement that led to McCullough's arrest.
Sigman told police the man gave Ridulph a piggy-back ride and then asked the girls if they had dolls, the documents state. While Ridulph went home to get a doll for "Johnny," Sigman said the man touched her on the arm and thigh, but their interaction went no further. Afterwards, she said she went inside her home to get mittens and when she returned, Ridulph and "Johnny" were gone.
After ignoring Sigman's initial reports that her friend had disappeared, a massive search went out to find Ridulph. Soon after the FBI became involved and agents sent daily reports to then FBI director J. Edgar Hoover.
Ridulph's skeletal remains were found on April 26, 1958, about 120 miles from where she disappeared.
McCullough, who then went by John Tessier, was an initial suspect, but he had an alibi. He told police that he was in Rockford, Illinois at a military recruiting station on the evening of Ridulph's disappearance. McCullough said he had been given a train ticket from Rockford to Chicago by the military. After the session, he said he returned home and went on a date with his girlfriend.
Police re-interviewed his then-girlfriend in 2010 and asked if she had any photos of McCullough. While showing police her pictures, the woman discovered an unused train ticket from Rockford to Chicago that she said he had given her on the date of the crime.
The discovery led to McCullough's arrest and eventual charge, according to court documents.
Shortly after Ridulph's disappearance, McCullough was accepted by the Air Force and legally changed his name from John Tessier to Jack Daniel McCullough. He eventually transferred to the Army and was assigned to Fort Lewis in Washington. He has been living in Seattle.
At a hearing Monday, McCullough's attorney told the judge his client doesn't acknowledge that he is who the state claims he is, according to CNN affiliate KOMO in Seattle.
Last September, investigators tracked down Cathy Sigman, now in her 60s, and showed her some old photos of men who fit the description of John Tessier, aka McCullough. "That's him," she said, according to the probable cause statement that led to McCullough's arrest. "To the best of my memory and recollection of that night, that's him."
FOLLOW THIS TOPIC