Housekeeper's lawyer in Strauss-Kahn case seeks prosecutor recusal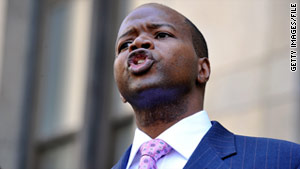 Attorney Kenneth P. Thompson says leaks to the news media were intended to discredit his client's credibility.
STORY HIGHLIGHTS
Attorney Thompson makes the request "in order to protect the integrity of the prosecution"
He accuses prosecutor Vance's office of "apparently" being responsible for leaks to the news media
Thompson says the leaks were intended to discredit his client's credibility
New York (CNN) -- An attorney for the housekeeper who has accused former International Monetary Fund chief Dominique Strauss-Kahn of attempted rape called Wednesday for the prosecutor in the case to recuse himself and appoint a special prosecutor.
"We make this request in order to protect the integrity of the prosecution of Mr. Stauss-Kahn, to ensure the victim's rights are not further prejudiced by deliberate acts seeking to undermine her credibility, to insulate your office from the appearance of conflict of interest, and to ensure that future victims of sex crimes, regardless of their backgrounds, are not dissuaded from coming forward," wrote Kenneth P. Thompson in a four-page letter to New York District Attorney Cyrus R. Vance Jr.
Thompson said Vance's office "apparently has been responsible" for leaks to the news media "that were intended to discredit the victim's character and, perhaps most importantly, undermine her charges against Mr. Strauss-Kahn."
Strauss-Kahn pleaded not guilty in June to the charges that prompted him to resign from his post as managing director of the IMF. Prosecutors have recently disclosed credibility issues regarding the hotel maid.
The developments in New York come as Strauss-Kahn faces separate accusations of attempted rape in France, which were filed in a complaint by French writer Tristane Banon.
A Strauss-Kahn lawyer in France said he has filed a counter-claim against Banon for "false declarations."
CNN's Susan Candiotti contributed to this report.
FOLLOW THIS TOPIC