Reputed mobster James 'Whitey' Bulger pleads not guilty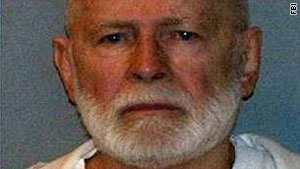 Reputed mobster James "Whitey" Bulger was arrested in late June in California.
STORY HIGHLIGHTS
NEW: A shackled Bulger winks at his brothers, William and John, in the courtroom's front row
Authorities say James Bulger was the head of the Winter Hill Gang
He fled arrest in 1995 and was a fugitive until his arrest this year
His story is the inspiration for the movie "The Departed"
Boston (CNN) -- Reputed mobster James "Whitey" Bulger pleaded not guilty Wednesday to all counts against him, including his alleged role in 19 murders.
Bulger, who was arraigned in federal court in Boston, was in an orange jumpsuit with hands and feet shackled when he entered the courtroom and gave a wink to his brothers, William and John, who were seated in the front row.
His attorney, J.W. Carney, said Bulger, 81, shows no signs of Alzheimer's disease, though neighbors at Bulger's Santa Monica, California, apartment told CNN two weeks ago that Bulger's girlfriend spoke of his exhibiting that type of dementia.
Carney said Bulger's mind is very sharp.

James 'Whitey' Bulger arrives in Boston

How the feds caught 'Whitey' Bulger
Bulger waived the reading of 32 counts against him. His next court date, a status hearing, is scheduled for September 14, and Bulger is not required to be present at that hearing.
Prosecutors say Bulger was the head of a South Boston Irish gang before he fled an impending racketeering indictment in 1995.
At the same time, he was an FBI informant whose handler tipped him off about the charges. Bulger became the inspiration for the 2006 Martin Scorsese film "The Departed."
Bulger was arrested in late June in California, along with his longtime girlfriend, 60-year-old Catherine Elizabeth Greig. She has been charged with harboring a fugitive.
His brother, William, is a former president of the University of Massachusetts and a state Senate leader. He was forced to step down from his university job after then-Gov. Mitt Romney, now a Republican presidential candidate, accused him of being evasive during congressional testimony about the whereabouts of his brother.
Bulger faces 19 counts of murder, authorities say.
Dick Lehr, who wrote a book about Bulger, described him as a cold-blooded killer whose gang went to lengths to avoid detection.
"When they killed someone -- this is pre-DNA -- they pulled the teeth out, cut the fingers off, tried to make it so the victims, if they were discovered from their graves, couldn't be identified. There's just no bottom. It doesn't get much uglier than someone like Whitey Bulger," Lehr said.
CNN's Sheila Steffen reported from Boston and Michael Martinez from Los Angeles.
CNN's Deborah Feyerick contributed to this report.
FOLLOW THIS TOPIC