Search for armed man closes major highway outside nation's capital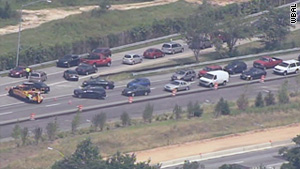 Vehicles on the Baltimore-Washington Parkway were directed to turn around on an entrance ramp Wednesday afternoon.
STORY HIGHLIGHTS
NEW: Driver says armed man shattered windshield, yelled, walked away
NEW: Maryland police are using helicopters, dogs to look for suspect
NEW: The Baltimore-Washington Parkway was closed for several hours
Washington (CNN) -- Maryland police are searching for a man with a shotgun who shattered the windshield of a speed camera vehicle, then shouted incoherently at the vehicle's occupant, police said.
The incident, which began just before 11:30 a.m., closed Interstate 295, commonly known as the Baltimore-Washington Parkway, until 2:45 p.m., when the northbound highway reopened.
Maryland State Police spokesman Greg Shipley said a man walked out of a wooded area toward a Jeep equipped with a camera to catch speeders in a construction zone on south-bound I-295, not far from Baltimore-Washington International Airport.
Shipley said the operator of the speed camera vehicle gave this account:
A man carrying a shotgun and a hammer came out of nearby woods and approached. He started tapping on the rear window of the Jeep with the shotgun. Alarmed, the operator began blowing his car horn. After the man struck the windshield of the vehicle with the hammer, fracturing the glass, the camera operator got out of the vehicle and crouched near the guardrail. The gunman yelled incoherently and walked back into the woods.
"We don't have our man; we don't have our motive yet," Shipley said. "We don't know why (he assaulted the vehicle). It's very unusual."
Shipley said there is no confirmation of any shots being fired.
The man is described as a white male, age 60 to 65, about 5 feet 8 inches tall and weighing approximately 150 pounds. He has gray hair and is clean-shaven. He was wearing a red-and-blue plaid shirt, possibly flannel, and blue jeans.
The Maryland State Police, Anne Arundel County Police and Maryland Transportation Authority Police are continuing to search for the man using SWAT teams, a helicopter and canines, Shipley said.
CNN's Tom Cohen contributed to this report.
FOLLOW THIS TOPIC