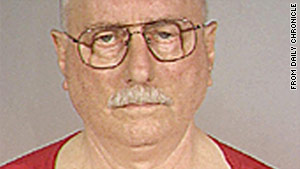 Jack Daniel McCullough, who changed his name when he joined the military, worked as a police officer in the 1970s.
STORY HIGHLIGHTS
Jack Daniel McCullough, 71, is due in court Wednesday
The trail in the long-unsolved slaying grew hot last year
Ex-girlfriend, unused train ticket lead to arrest
(CNN) -- A Seattle-area judge has set bail for a former police officer and veteran at $3 million in the cold-case killing of a little girl in Illinois more than five decades ago.
Jack Daniel McCullough, 71, was charged last week in the death of Maria Ridulph, 7, who in 1957 was abducted while playing with a friend near her home in Sycamore, about 50 miles west of Chicago.
At a hearing Monday, McCullough's attorney told the judge that the defendant, who lives in Washington state, doesn't acknowledge that he is who the state claims he is, according to CNN affiliate KOMO in Seattle.
McCullough is due in court Wednesday for another hearing at the King County courthouse.
More than 50 years after Maria vanished from a street in Sycamore, the trail turned hot just last year as investigators did follow-up interviews with people involved in the case.
It was three weeks before Christmas in 1957 when then-8-year-old Cathy Sigman told adults twice that her friend, 7-year-old Maria, was missing after playing with "Johnny," a 20-year-old white male, according to court documents obtained by KOMO.
The stranger had gotten Maria to trust him by letting her ride piggy-back. He then asked the girls if they had dolls, Sigman said in a witness statement filed in the case. Maria quickly went home to get hers.
Sigman, left alone with the man, said he touched her arm and thigh. And he gave her "the creeps," according to a probable cause warrant filed in the case.
When Maria returned, Sigman left them to get mittens. When she returned, the man and her friend were gone.
The search ran into the next morning, December 4, 1957. The case was big news, even attracting the attention of the FBI and its director, J. Edgar Hoover, who was supplied daily updates from agents.
About four months later Maria's body was found in Jo Davies County, about 120 miles from the last place she was seen.
In the years since, McCullough, known as John Tessier at the time, joined the armed forces and legally changed his name. Later he began a career in law enforcement, serving with the Lacey and Milton police departments in Washington state, court documents show.
McCullough was initially a suspect. When interviewed by police he said he knew both girls, according to court documents. But he had an alibi -- he said he had been in Rockford, Illinois, en route to Chicago to enlist in the Army.
Last September, investigators tracked down Cathy Sigman, now in her 60s, and showed her some old photos of men who fit the description of John Tessier, aka McCullough. "That's him," she said, according to the probable cause statement that led to McCullough's arrest. "To the best of my memory and recollection of that night, that's him."
When authorities knocked on his apartment door last week to arrest him, they found McCullough with a small child he said was his granddaughter, according to court documents.
McCullough may face extradition to Illinois, according to CNN affiliate KING-TV.
FOLLOW THIS TOPIC