STORY HIGHLIGHTS
Tricia Reitler vanished from Indiana college 18 years ago
Larry Hall confessed to killing her and others, then recanted
He was convicted of kidnapping a 15-year-old and is serving a life sentence
Reitler's parents hope one day to find and bury her remains
CNN goes on the trail of a suspected serial killer with a man who went undercover to nab him. Don't miss "CNN Presents: To Catch a Serial Killer

" at 8 ET Saturday night.
(CNN) -- Eighteen years after Tricia Reitler's disappearance, Donna and Garry Reitler find themselves still searching for their daughter.
"You find yourself, when you're driving, looking out the window, and you're just looking," says Garry Reitler.
On March 29, 1993, their 19-year-old daughter took a break from writing a term paper to get a soda and magazine from a store a half-mile from her college dormitory at Indiana Wesleyan University.
Police say they think Tricia Reitler was abducted while walking back to her room. She has never been found.
"If you see something on the side of the road, a garbage bag, whatever, it's like, 'Could that be her?'" says Donna Reitler.
Although they say they're sure their daughter was killed that night, the Reitlers say they can't be at peace until her body is recovered.
College and sacrifice

Preview To Catch A Serial Killer
Tricia grew up in a conservative home in Olmsted Falls, Ohio, the eldest child in a family of three girls and one boy. Her parents persuaded her to go to Indiana Wesleyan, a small Christian college, because they believed it supported their traditional values.
"We told her, 'Tricia, we feel like this is where God wants you,' " Donna Reitler says.
Tricia adjusted well to her new surroundings and earned a grade point average of 3.65, her parents say.
She worked during her summer break and never took her parents' financial sacrifices for granted.
Her mother recalls a letter Tricia wrote them from college:
"I just want you to know how much I appreciate how hard you're working to get me here. And I know that it's not easy."
Tricia even washed her clothes by hand to save money.
"She fully understood the sacrifices that were made to get her there and she was willing to do whatever it took to make it happen," Garry Reitler says.
The night of Tricia's disappearance, her father recalls almost intuitively feeling unwell.
"The phone call came a little bit after midnight. I wasn't feeling well that night, just kind of lying on the couch," he says.
"Do you know where your daughter is?" said the officer's voice on the other end of the phone.
Tricia may have been headstrong, but she was very responsible. Her parents knew immediately something was drastically wrong.
"Tricia was a fighter; she was strong. She was a small girl, but she was very determined. We knew that she was not gone by her own doing," Garry Reitler says.
The family drove to the college campus in Marion, Indiana, the next morning. There, they learned their daughter's bloodied clothing had been discovered in a nearby field.
"I think at that point, I knew. I knew that she was no longer alive," says Garry Reitler.
Tricia's case drew nationwide media attention. Posters of a young woman with a warm smile and long wavy brown hair were plastered on signposts. Her mother made a desperate plea on the "Jerry Springer" show.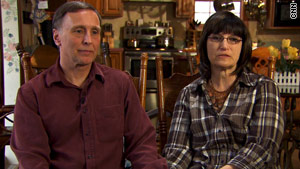 Garry and Donna Reitler say they believe their daughter is dead, but hope to one day find her remains.
"Hang in there and know that we love you, and we're doing everything we can to find you," she said on the broadcast.
Months after Tricia's disappearance, there were still no answers for Donna and Garry Reitler.
They describe their agony as a "horror show going before our eyes."
"Just trying to lay down and sleep and it doesn't come," says Garry Reitler. "The next thing you know, the dawn of the new day is there. The light's coming in the window and you haven't slept the whole night."
Suspected killer tried in kidnapping
Six months after Tricia's disappearance, the body of a young woman was found in an Indiana cornfield.
The discovery was a glimmer of hope for the Reitlers.
"We thought that was the end. We were gonna find her and finally bring her home and lay her to rest, and we will be able to move on," Donna Reitler says.
But investigators identified the body as 15-year old Jessica Roach.
"How sad to be envious of another family just because they found the body of their child," Garry Reitler says.
Police said Jessica, also an attractive brunette, had been abducted, raped and strangled.
The Roach case sat cold for nearly a year until investigators linked a mysterious vehicle reported in a nearby county. A man in a Dodge van had reportedly been trying to pick up young girls. Some of the girls complained to their parents, and a license plate number was tracked.
"That plate came back to Larry Hall, who we had never heard of at the time," says Gary Miller, chief investigator for the Vermilion County Sheriff's Office in Illinois.
Miller brought Hall in to the Wabash, Indiana, police station for questioning, where he showed Hall a picture of Jessica.
"He immediately flinched. He turned to his right and put his hand up over his face like he didn't want to see the picture. And he told me he didn't think he'd ever seen that girl," Miller says.
Miller says he believes Jessica was abducted by Hall on the side of the road near her house, where he forced her into his van.
Hall eventually confessed to investigators.
"I tied her up, but I can't remember with what. I took her pants off," he told investigators.
Hall said he raped Jessica, led her to the woods and then strangled her from behind, he said, so he didn't have to see her face as she died.
"I laid her up against a tree and put a belt around her neck and she stopped breathing."
Investigators believe Jessica Roach was abducted just down the street from her home while riding her bicycle.
How sad to be envious of another family just because they found the body of their child.
--Garry Reitler, father of Tricia Reitler, missing since 1993
During his interrogation by police, Hall spoke of hurting other women.
"All of the girls looked alike. I cannot remember all of them. I picked up several girls in other areas, but I can't remember which ones I hurt," he told investigators.
Hall also said he had been near the campus of Indiana Wesleyan University, where Tricia Reitler was last seen, investigators said.
"I was over there because I needed to be with somebody. There was a small shopping center. I had a van," he said.
He had raped and strangled a girl there, too, he said, and identified his victim by pointing to a picture of Tricia.
But the next day Hall recanted everything he had said.
"Why I was just tellin' you about my dreams. That didn't really happen," Hall told Miller.
Notes and clues
Hall remained a suspect in Tricia's disappearance. Police conducted a search of his home and van and found what they say is incriminating evidence.
There were notes.
"Seen joggers and bikers, many alone. Check colleges, parks. Seen some prospects."
There was a list of items to buy at the hardware store, and detailed instructions.
"Buy two more plastic tarps. Cover all floor and sides of van. No body contact, buy condoms. Buy two more leather belts. Find one now."
Investigators found newspaper clippings about Jessica Roach and Tricia Reitler amid pornographic photos they say Hall had altered.
"He had drawn what looked like a rope or belt around the neck of one of the people. And on the left side of one of the pictures, the left side of the mouth, he had drawn blood," Miller says.
Hall told investigators he had staged the evidence to gain attention and feel important.
Hall was convicted in 1995 and sentenced to life in prison without parole for the kidnapping of Jessica Roach. Under the federal system, says federal prosecutor Larry Beaumont, if a suspect is convicted in a kidnapping that resulted in death, there is a mandatory life term with no parole.
Hall began serving his life sentence at the Medical Center for Federal Prisoners in Springfield, Missouri. He is currently serving time at the Butner Federal Correctional Complex in North Carolina.
Jessica Roach's case was closed and her family had the closure the Reitlers desperately longed for.
Beaumont still was determined to help the Reitlers find their daughter, even conducting searches on his own.
"To lose your daughter and never find out what the heck happened to her," Beaumont says, "was a horrendous crime."
Convinced Hall knew where Tricia's body was, Beaumont attempted to get information out of Hall from prison by using an informant named Jimmy Keene.
Keene, who had been sentenced to 10 years in prison on drug trafficking charges, was promised a swift release and clean record if he could find out from Hall where Tricia's body was.
Keene's mission was not without risk: Entering the prison in Springfield as a snitch could get him killed. But he was ready to take the chance to gain his freedom.
In prison, Keene slowly gained Hall's trust.
Keene says Hall eventually admitted to him that he killed Tricia, but he wouldn't say where the body was.
Then, one day, Keene approached Hall in the prison workshop, where Hall was carving wooden falcons and placing them on a map.
"It was a map with red dots over Indiana, Illinois and Wisconsin. And he covered it up really fast," says Keene.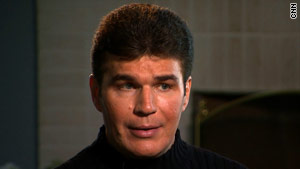 Jimmy Keene won his freedom by pretending to strike up a jailhouse friendship with convicted kidnapper Larry Hall.
The falcons, Hall told Keene, were placed on the map to "watch over the dead."
Keene was relieved, believing this was the information that would provide the location of Tricia's body and give him a ticket to freedom.
Believing his release was imminent, that night, Keene stopped pretending to be Hall's friend and told Hall what he really thought.
"I told him he was a ... sicko. I told him that he was insane. I said that 'You are one of the most despicable forms of human life on this planet,' " Keene says.
Keene not only blew his cover, his rant landed him in solitary confinement. By the time he was released from solitary, the map and falcons were gone.
Still, prosecutors believed he'd done enough and set him free. In 2010, Keene and author Hillel Levin wrote a book about his time with Hall, "In With the Devil."
Growing up with Gary and Larry
Larry Hall was born in Wabash, Indiana, the son of a cemetery worker and a homemaker.
Larry was awkward, slovenly and showed early signs of destructive behavior, recalls his identical twin brother, Gary.
"He was the backward twin. I was the more dominant, outgoing twin," he says.
Larry's mother told him he had it tough from the start: deprived of oxygen at birth, he turned blue.
Growing up, Gary -- unlike Larry -- had plenty of friends and girlfriends. He says he tried to be a positive influence on his brother, but, claims Gary, Larry was "evil" and tried to kill Gary several times.
"I just woke up out of a sound sleep to see my brother standin' over me with this humongous long limb, getting ready to smash my skull," Gary says.
After high school, Larry and Gary found a hobby that would take them traveling around the country: Civil War re-enactment.
For Gary, a military history buff, it was an easy fit. Gary quickly made friends and earned promotions. Larry, too, threw himself into the new hobby: "I met a lot of new friends during that time period, and I was able to travel around and meet 'em at the battlefields and go on tours and stuff," Larry says.
Larry also took to the part, growing thick muttonchop sideburns.
Gary says he believes his brother's Civil War guise was a way to cover his dark tendencies and lack of personal hygiene.
"It's not only that he was dark and mysterious and obnoxious, and very quick to anger -- he smelled bad. And with those muttonchops, I think he grew 'em to try to hide the acne."
Based on what he now knows of his brother, Gary thinks Larry started killing women when the brothers were juniors in high school.
Gary Hall describes his twin as "the most prolific serial killer in U.S. history." He says he has no doubt Larry Hall killed Tricia Reitler and she was one of many victims.
When Gary found out Larry had been convicted of kidnapping Jessica Roach, he says he was not surprised.
"It just all fit together; it all made sense. There was all these questions growin' up with him and, you know, him bein' a young adult and everything, and him not havin' a girlfriend," Gary says.
"There was all these unanswered questions that -- that it all made sense."
Forgiveness
What really surprises Gary Hall is the goodness of the Reitlers after all they've been through.
"They told my wife and I that they want to go down and wrap their arms around Larry and give him a hug. I really admire those people most of all," he says.
"They have so much forgiveness. All they want is their little girl back. They don't want to punish Larry anymore."
The Reitlers say they are not seeking vengeance, just Tricia's body, so she and they can finally rest in peace.
Tricia's parents take heart in knowing people like Jimmy Keene care enough to risk their lives to find out where their daughter's body is.
"I think my solace is the fact that there are men and women out there who care so much that they would sacrifice to try to find where she is, so that we can bring her home," says Garry Reitler.
Knowing Tricia was true to her nature, even in the last moments of her life, also provides some solace to the Reitlers.
In prison, Keene says Larry Hall told him that Tricia Reitler was warm and gracious.
"She was kind to him. And I can really see that being Tricia," says Donna Reitler, after reading Keene's book.
"Whether he asked for help or she saw he might have needed help or whatever, I can see that in her, the only one of the girls that was nice, kind to him," she adds.
Although Larry Hall has not been charged with crimes against anyone other than Jessica Roach, experts close to the case say he may have killed up to 40 women.
Those cases may go unsolved forever. In the meantime, the Reitlers' driving and searching continues as it has for the last 18 years.
FOLLOW THIS TOPIC