Man suspected of using fake identity to land flight attendant job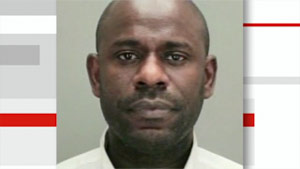 Jophan Porter, 38, is suspected of using a fake ID to get a job with American Eagle Airlines.
STORY HIGHLIGHTS
"We don't really know who he is," assistant state attorney says
Federal official downplays the severity of the alleged breach
Employee is currently being held on a $1 million bond
Immigration and Customs Enforcement says it will deport him
Miami (CNN) -- Federal and local authorities are investigating an apparent airline security breach after an American Eagle Airlines employee allegedly used another man's identity to get a job as a flight attendant.
Jophan Porter, 38, has been charged with six counts of identity theft and three counts of forgery, among a lengthy list of other charges, according to the Miami-Dade corrections website.
American Eagle says the incident did not involve a customer and that they are involved in an investigation that includes the FBI, according to a statement from the airline.
When arrested at Miami International Airport on Friday, Porter -- a native of Guyana -- was carrying multiple forms of phony identity, including driver's licenses, a passport and a Department of Transportation identification card, CNN affiliate WSVN reported, citing the arrest report.
The presiding judge raised bail to $1 million after prosecutors described Porter as a flight risk, noting that authorities "don't know who he's connected to."
"We don't really know who he is," the assistant state attorney said. "When you are refusing to identify yourself to the FBI and you're working in an airline, that's a concern."
A spokesman for U.S. Immigration and Customs Enforcement said the agency plans to deport Porter, though he would not comment on Porter's residency status or where he will be sent.
"ICE lodged a detainer against him," said Ivan Ortiz-Delgado. "We will begin removal procedures once his criminal proceedings are complete."

Police: Fake ID used to get airline job
Having an airline identification card or being an airline employee does not allow a person to circumvent security, according to the Transportation Security Administration.
Flight attendants' names are checked against the terror watch list, but it is the responsibility of airlines to verify potential employees' identities, including their legal status, the TSA said.
Meanwhile, airport traveler Camilla Diaz said she didn't understand how the apparent breach occurred.
"A big company like that -- they have to check that before," she told WSVN.
Others appeared stunned. "Wow that's incredible," Alejandro Hernandez told the network.
Porter is currently being held in Miami-Dade County jail and is represented by a public defender, who could not be immediately reached for comment.
CNN's Ross Levitt and Cristy Lenz contributed to this report.