'Barefoot Bandit' pleads guilty to seven federal charges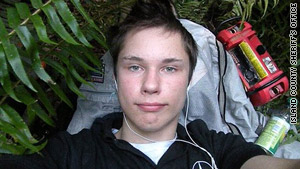 Colton Harris-Moore faces federal charges stemming from his alleged crime spree in stolen boats, cars, and planes.
STORY HIGHLIGHTS
NEW: U.S. attorney: "We have ensured he will not profit from his crimes"
Colton Harris-Moore agrees to give up any profits from book or movie deals
Harris-Moore is accused of stealing boats, cars and planes while eluding police
He is estimated to owe more than $1.4 million in restitution
Seattle (CNN) -- Colton Harris-Moore, whom authorities have dubbed the Barefoot Bandit, pleaded guilty Friday to several federal charges stemming from actions that led to his dramatic July 2010 capture in the Bahamas.
Harris-Moore gained notoriety and earned his nickname for allegedly leading police on a two-year manhunt while eluding capture in stolen boats, cars and planes, often while barefoot.
Dressed in a khaki prison uniform at the hearing Friday, Harris-Moore pleaded guilty to seven counts, including stealing an airplane, piloting an airplane without a license, burglarizing a bank and possessing a firearm as a fugitive. He faces additional charges in Washington state.
He had previously entered a not guilty plea on the charges. Prosecutors recommended that Harris-Moore be sentenced up to 7 1/2 years in prison, though Judge Richard Jones is not bound by the recommendation, and could give him more time. Sentencing is scheduled for October 28.
As part of the plea deal, Harris-Moore agreed to give up any profits that may come from book or movie deals on his story.

2010: 'Barefoot bandit' suspect caught

2010: Who is 'barefoot bandit' suspect?
"The many years of Mr. Harris-Moore avoiding responsibility for his criminal conduct have come to an end," U.S. Attorney Jenny A. Durkan said in a statement following the hearing. "We have ensured he will not profit from his crimes, and that his victims will be compensated to the greatest extent possible. While we cannot stop him from telling his story, we can make sure he never sees a dime for his crimes."
His attorney, John Henry Browne, has said his 20-year-old client wants any such money to go to the victims. Harris-Moore is estimated to owe more than $1.4 million in restitution.
"There's a lot of interest. There's active negotiations," Browne said. "He really doesn't want publicity, but regardless of whether Colton cooperates or not, there is going to be a movie made about (him). There will be other books written about him. That's going to happen no matter what."
As the Barefoot Bandit, Harris-Moore garnered a loyal and outspoken fan base on Facebook, at one point amassing more than 50,000 fans.
He was arrested in July 2010 after allegedly crashing a stolen plane in the Bahamas and then trying to escape on a stolen boat. He'd been on the run from police since escaping from a Washington group home in 2008.
Browne said Friday that his client hopes to go to college one day and "wants to study aviation or engineering."
CNN's Patrick Oppmann contributed to this report.
FOLLOW THIS TOPIC