STORY HIGHLIGHTS
Half the TV sets turned on in Orlando, Florida, are tuned in to the Casey Anthony trial
Anthony, 25, is accused of killing her 2-year-old daughter, Caylee, in June 2008
Family drama and lurid details have made the trial a national obsession
The judge says the jury could get the case by the end of next week
Orlando, Florida (CNN) -- Here in the land of Mickey, where parents lavish time and money to immerse their little ones in the magic of childhood, another name has stolen the show: Casey.
Casey Anthony, 25, is accused of killing her doe-eyed toddler and the murder trial is inescapable this summer: Inside the diner, the gym, the hair salon -- even the car wash -- TV screens are tuned in to the coverage and grabbing eyeballs.
At Fields BMW in suburban Winter Park, no one has switched channels in the customer lounge since testimony began four weeks ago.
"I don't think anybody's brave enough to grab the remote," said Whitney Lore, the cashier.
The drama sucked in Trevor Ball this week as he waited for his wife's BMW to be serviced. He fired off a Casey update to her by text: The prosecution rests.
Half the people who turn on their TVs in Orlando during the daytime are watching the trial, says Steve Hyvonen, news director at WKMG, a CNN affiliate. That usually only happens here when a hurricane hits.
So it's no surprise that all the local television stations have abandoned normal daytime programming to carry the trial live. Even the U.S. Open comes in second to Florida vs. Casey Anthony.
"It's the biggest thing that has happened in Orlando in years," said Mike Boslet, editor of Orlando magazine. "The whole world is watching."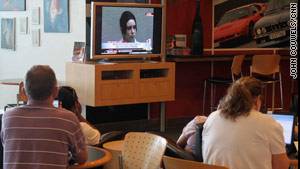 Nobody has changed the channel in the customer lounge at Fields BMW since the Anthony trial began.
Cable TV's usual suspects -- Nancy Grace, Greta van Susteren and Geraldo Rivera -- come and go in black SUVs from "Casey Land," the tent city that occupies a vacant lot across the street from the Orange County Courthouse. The scene is reminiscent of big trials of the past: O.J. Simpson, Michael Jackson, the Menendez brothers, Scott Peterson.
Why the Anthony case?
"You've got this attractive young mother and this horrible death of a child," said Robert Thompson, who teaches television and popular culture at Syracuse University.
"And then there are all those details -- all the made-up jobs and made-up people and the 31 days the child was missing. Those are the kind of details that make this better than a crime drama," he explained.
"Once you start following this story, you're hooked."
The true-crime spectacle often threatens to obscure a sad truth: A little girl named Caylee never got to grow up. And a teenager with a wild streak had a baby too soon.
Caylee was a mistake, Casey's mother used to say. But she'd always add that the adorable little girl was the best mistake Casey ever made.
'I'm pregnant'
For seven months, Casey Anthony kept her pregnancy secret, according to testimony at her trial.
She's putting on a little weight, her mother explained to relatives curious about Casey's round belly at a wedding in early June 2005. "I thought she was filling out."

Fight outside Casey Anthony courthouse

Tot mom's brother, dad paternity tested

Anthony jurors hear complex testimony

What are Casey Anthony jurors thinking?
The parents suspected, but they didn't really want to know, her father, George, later explained to the 12 people chosen to do what he never could -- judge and possibly punish his daughter.
With a baby well on the way, denial can last only so long.
"I have something important to tell you," Casey confided in her mother two weeks after that June wedding. Then she delivered the news any parent of a teenage girl dreads: "I'm pregnant."
George and Cindy Anthony did not scold their daughter or throw her out of the house. They didn't even ask who the father was. They were over the moon about becoming grandparents.
Cindy Anthony immediately went shopping, buying maternity clothes, stuffed animals and a baby book. She arranged a baby shower for her daughter and turned the computer room into a Winnie the Pooh themed nursery.
"Casey had a Winnie the Pooh room and we had a lot of Winnie the Pooh stuff, so it was a no-brainer," she testified.
The grandparents were in the hospital delivery room when Caylee Marie Anthony was born on August 9, 2005. Soon, mother and daughter were at odds over the baby.
While George, an ex-cop, was quiet and reserved, Cindy, a nurse, could be volatile and her daughter found her controlling, according to police reports and other records in the voluminous court file.
After Caylee's birth, Cindy was constantly on Casey to be more responsible. She accused her of being an unfit mother, Casey told her brother, "and maybe I am."
Casey was not the first teenage mother to learn how hard it can be to go home to the responsibilities of a baby when you're 19 and all your friends are out partying.
Caylee didn't live to see her third birthday. On July 15, 2008, her grandmother -- not her mother -- reported her missing.
From 'low rent mystery' to national obsession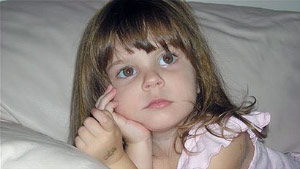 This "angel photo" of Caylee Anthony helped turn her case into a national obsession.
In the beginning, there was little to set this case apart. Then the now-familiar "angel" photo of Caylee was released. The image of the girl with the big brown eyes, her tiny hand curled under her chin, helped turn a search for a missing child into a national obsession.
"This started out as kind of a low-rent type of mystery," said Boslet, the editor at Orlando Magazine. "But then we had people outside the Anthony home screaming."
He was referring to the lawn chair brigade of protesters who swarmed the Chickasaw Park subdivision as the search for Caylee morphed into a murder investigation during the summer and fall of 2008.
They gathered in the street outside the Anthonys' house, carrying placards with slogans such as "Baby killer" and shouting "Murderer!" and "Tell the truth," all under the glare of television camera lights.
The details that slowly emerged in the case were truly bizarre, right down to the alleged murder weapons: duct tape and chloroform. They only fueled the frenzy.
Caylee was last seen alive after lunch on June 16 as she got into her mother's white Pontiac Sunfire and waved to her grandfather. "JoJo, see you later," she said, "I'm going with Mommy."
Caylee was missing for a month before her grandmother realized it and called the police. All the while, her mother seemed to enjoy a party girl's carefree life, working as a "shot girl" at a club where her new boyfriend worked and entering a "hot body" contest. (She did not win.)
From the tales Casey told her friends and family for those 31 days, Caylee seemed to be on a toddler's dream tour with a nanny called Zanny: Disney World, SeaWorld, Lego Land, the beach, Tampa, Jacksonville.
It was all a fantasy, the testimony showed, just like the job at Universal Studios that Casey pretended to go to every day and an imaginary boyfriend with an imaginary trust fund.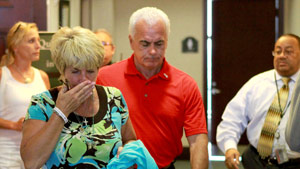 Cindy and George Anthony attend the trial almost every day. Both have testified for the prosecution.
A towed car broke the case wide open. When George and Cindy Anthony reclaimed their daughter's Sunfire, it reeked of death. "Please don't let this be Casey or Caylee," he prayed. And then he told his wife, "We need to get home right now. This car stinks."
"What died?" Cindy Anthony exclaimed after he pulled the car into the garage. She retrieved Caylee's favorite doll from the child's car seat. It reeked, too, so she sprayed it with Febreze, she testified.
At the trial, as prosecutors focused on trying to prove Caylee's body had been in the trunk, they called witnesses who are experts on hair, fibers and human decomposition -- even an authority on bugs.
Now when they gather, Orlando's ordinary people talk like crime scene investigators, well versed on the life cycle of the coffin fly and other stomach-turning subjects.
'A tweet a minute'
O.J. Simpson's murder trial was a gavel-to-gavel cable news extravaganza; 17 years later, social media fuels the Anthony case. iPads are ubiquitous in court and the blogging, tweeting and online chatting comes fast and furious in the courtroom's balcony seats.
"A tweet a minute," says Jacqueline Fell, a producer at CF13, Orlando's cable news channel. "It's nonstop, gavel to gavel."
Boslet, the Orlando Magazine editor, hired "Marinade Dave" Knechel, a local blogger and armchair expert on the case, to cover the trial. A freelance graphic artist who takes care of his elderly parents and two cats, Knechel had never worked as a reporter. He started his blog to share his secret marinade recipes and human interest stories.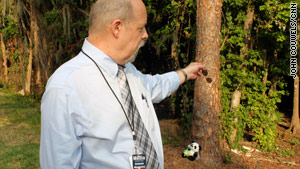 Blogger "Marinade Dave" Knechel points to the spot where Caylee Anthony's body was found.
He drove one day by Jay Blanchard Park in Orlando and saw the dive teams searching for Caylee. He posted an entry on his blog and started to gain a following, including Stan Strickland, the original judge in the case.
When Strickland commented in court one day that Marinade Dave seemed "fair-minded," Casey Anthony's defense howled in protest and the judge stepped down.
Boslet met his new blogger at a credentialing meeting at the court. Marinade Dave would have trouble getting a seat on his own; more than 700 members of the media applied for credentials. But as a blogger for the local magazine, he was a shoo-in for a balcony seat.
It was a win for the magazine, too, Boslet said. Traffic on the magazine's Web site spiked 40% in May and June's numbers should go even higher.
'Tot mom'
Thompson, the television and popular culture professor at Syracuse University, has two words to explain the continuing obsession with the Anthony case: Nancy Grace.
Her fans account for nearly all the people who stand in line overnight, jostling and jockeying for one of the 50 public courtroom seats.
"Nancy Grace sunk her teeth into the Anthony case and never let go," Thompson said.
The search for Caylee during summer 2008 brought in viewers as participants in a mystery, he added. When it ended badly, people already were invested. They want to know how this story ends.
For the first two weeks of the trial, Grace broadcast her show live from HLN's two-story "Casey Land" tent, which the locals dubbed "the Taj Mahal."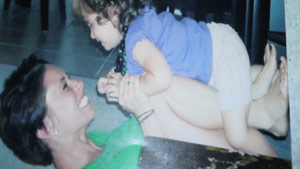 Caylee adored her mother, but Casey was not ready for the responsibility, witnesses testified.
She expects to return for the verdict.
Check out Nancy Grace's guide to the trial
In the beginning, Grace said, she was captivated by the photos and videos of Caylee smiling, singing and dancing. "When I looked into those big brown eyes, it just hit home."
Then the story became an unfolding drama about mothers and daughters.
"I've never seen anybody lie like tot mom," Grace said, invoking the moniker she gave Casey Anthony. It stuck.
The former prosector considers the Anthony case a Greek tragedy. Casey Anthony blew it: "She was cute and petite and smart and articulate," she said "She had the whole world ahead of her, and she ruined it."
But she views Casey's mother as the most heartbreaking figure. Cindy Anthony was Caylee's "real mother," the one who fed her, changed her and let her feel safe and loved, Grace said.
Casey Anthony wouldn't look her mother in the eye in court on Tuesday. Her sullen expression was unchanged. "She turned away and was so coldhearted," Grace observed.
Earlier in the trial, jurors saw recorded jailhouse visits in which Casey railed at her parents like a spoiled, petulant child.
No one in the Anthony family will be spared if the defense lives up to its promise to tear the lid off a trove of dark family secrets, including allegations of incest and sexual abuse.
Casey Anthony was "raised to lie, lie, lie" after being sexually molested by her father when she was 8, defense attorney Jose Baez told the jury during opening statements. He says Caylee drowned in the pool and George Anthony found her and covered it up.
Casey's father vehemently denies the allegations and sits stoically in the back of the courtroom with his wife.
As the case winds to a close, some trial watchers find it more of a why-dunnit than a who-dunnit. There's a thirst for explanations, for understanding.
"As a young prosecutor I used to wonder, 'Why, why, why?'" Grace said. Now she knows that sometimes there are no answers.
"In Session's" Beth Karas and Cara Hutt and CNN's Melanie Whitley contributed to this story.
FOLLOW THIS TOPIC