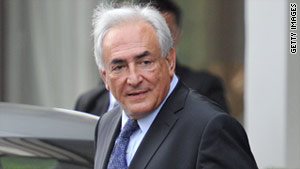 Dominique Strauss-Kahn repeatedly asked why he was being detained, court papers say.
STORY HIGHLIGHTS
Former IMF chief questioned why he was being detained, document says
He said he was not invoking his diplomatic immunity, it says
He is accused of attacking an employee at a New York hotel
New York (CNN) -- A new prosecution document in the Dominique Strauss-Kahn case reveals that the former chief of the International Monetary Fund at first claimed to have diplomatic immunity when he was taken into custody after being removed from an Air France flight at John F. Kennedy International Airport but later said he was not invoking it.
Strauss-Kahn told a Port Authority detective, "I have diplomatic immunity," according to a transcript in the document. But four hours later, he told a New York Police officer with the Manhattan Special Victims squad, "No, no, no, I'm not trying to use that. I just want to know if I need a lawyer."
The IMF has said that Strauss-Kahn would have been entitled to diplomatic immunity only if his alleged crime involved official fund business, which is not the case in this situation.
Strauss-Kahn repeatedly questioned why he was being detained, at one point asking, "What is this about?"
Strauss-Kahn pleaded not guilty June 6 to seven charges involving a May 14 incident in which a housekeeping employee at New York's Sofitel hotel accused him of sexual assault.
When he was approached by Port Authority officers on the Air France flight, the first thing he said was, "Do you have my cell phone?" The report shows he called the hotel several times, looking for a phone he thought he left behind.

Former IMF chief in court

Worlds collide in Strauss-Kahn case
Later that night, just before 11 p.m., he was asked whether he'd like to speak to detectives about the incident. He responded, "My attorney has told me not to talk. I was ready to talk."
Strauss-Kahn, who was considered a front-runner in France's presidential race before his arrest, faces charges including criminal sexual acts and sexual abuse.
His attorney, Ben Brafman, declined to comment on details of the case in a brief statement outside the courtroom after entering the plea.
"We intend to defend this case and defend it vigorously, but we are going to do so in the courtroom," Brafman said, renewing statements that evidence in the case will reveal his client is innocent.
The new court filing indicates that several reports will be forthcoming, including a medical examination of the housekeeping employee, DNA reports, a sexual assault forensic examination, photographs and electronic recordings.
According to New York police, the attack happened soon after the housekeeper entered Strauss-Kahn's suite to clean it.
Strauss-Kahn emerged naked from a room, ran down a hallway, shut a door to prevent the woman from leaving and attacked her, according to police and prosecutors.
According to court documents and prosecutors, Strauss-Kahn grabbed the woman's chest, tried to take off her pantyhose and forcibly grabbed her between her legs.
The criminal complaint against Strauss-Kahn alleges that he forced the woman to engage "in oral sexual conduct" and tried to force her to engage in sexual intercourse.
The next court date for Strauss-Kahn is July 18, according to Erin Duggan of the district attorney's office. No date for a trial has been set, Duggan said.
The alleged victim, who has not returned to work, intends to testify against Strauss-Kahn, said her attorney, Ken Thompson.
"She is going to come into this courthouse, get on that witness stand and tell the world what Dominique Strauss did to her," Thompson said.
He declined to discuss specifics of any possible settlement negotiations with Strauss-Kahn, saying his focus is preserving the good name of his client.
She was described by a former attorney as a 32-year-old single mother living in the New York borough of the Bronx who moved to the United States from the West African country of Guinea.
At the hearing, defense lawyers formally requested that Manhattan prosecutors provide discovery materials: copies of scientific reports as well as police reports and formal statements made by the hotel employee.
Prosecutors have not turned over the information to defense attorneys, Duggan said.
The defense has said that some of that information has already been leaked to the media.
"Our client's right to a fair trial is being compromised by the public disclosure of prejudicial material even before these materials have been disclosed to counsel," Strauss-Kahn's attorneys wrote before the hearing in a letter to the judge.
They said that if they chose to, they could "release substantial information that in our view would seriously undermine the quality of this prosecution and also gravely undermine the credibility of the complainant in this case."
In response, Manhattan Assistant District Attorney Joan Illuzzi-Orbon wrote in a letter that the request for the materials would be addressed if the request was made in writing.
Illuzzi-Orbon told the defense she agreed with the need to safeguard information from leaks but was "troubled that you chose to inject into the public record your claim that you possess information that might negatively impact the case and 'gravely' undermine the credibility of the victim."
If the defense does possess such information, it should be forwarded to prosecutors, she said.
Strauss-Kahn was released from jail on bail but is under house arrest in a luxury townhouse in New York's Tribeca neighborhood, according to a source with knowledge of his whereabouts.
He is under court-ordered watch as part of the terms of his $6 million bail agreement and must pay for 24-hour armed guards posted at the door, as well as electronic surveillance.
FOLLOW THIS TOPIC