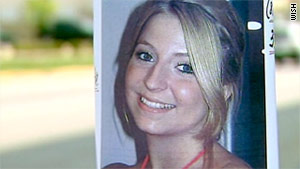 Police have said the chances of foul play in the disappearance of 20-year-old Lauren Spierer are 'very great.'
STORY HIGHLIGHTS
NEW: Spierer's university establishes fund to help with search costs
Bloomington, Indiana, police release a more detailed description of Spierer's clothes
She was last seen on surveillance video taken around 3 a.m. June 3
A witness has reported seeing Spierer around 4:30 a.m.
Read more about Lauren Spierer's disappearance at CNN affiliate WISH.
(CNN) -- Bloomington, Indiana, police said Tuesday they have received close to 1,000 tips in their investigation of the disappearance of 20-year-old Lauren Spierer.
They also released a more detailed description of the clothing the Indiana University student was wearing when she was last seen.
Approximately 350 of the tips have come in since "America's Most Wanted" aired a segment on the case Saturday, Capt. Joe Qualters said at a news conference Tuesday morning. Police are still sorting through and following up on those leads, he said.
Based on additional surveillance video analysis and interviews with friends, Qualters provided a "more definite" description of Spierer's clothing in the early morning of June 3. He said she was wearing a V-neck white shirt that may have had a "distressed" look, with elbow-length butterfly sleeves and a scooped bottom. She also wore black leggings with silver zippers at the ankles.
Spierer had left her shoes, along with her cell phone, at a bar earlier in the night.
Qualters acknowledged that authorities have heard many of the rumors about what may have happened to Spierer, and they have not ruled any possibilities out. Still, he warned that investigators need to avoid allowing "the tail wagging the dog" by treating those rumors as facts.
Spierer disappeared sometime after 3 a.m. June 3 after going out with friends to Kilroy's Sports Bar in Bloomington, police have said. Surveillance camera footage from around 2:30 a.m. showed her and a male student, Corey Rossman, returning to her apartment building, Smallwood Plaza.
An altercation with other people occurred there that led to Rossman getting punched in the face, his attorney told CNN affiliate WISH, and he said he has no memory of what happened after that.
Police have said additional surveillance video from an alley between Smallwood Plaza and Rossman's apartment a few blocks away showed them walking toward his building around 3 a.m. Her keys were later found in that alley.
A neighbor of Rossman reported seeing Spierer leave around 4:30 a.m., but police have said they have found no sign of her after the 3 a.m. sighting on any of the surveillance video they have viewed from the blocks between the two buildings.
Attorneys for Rossman, his roommate and his neighbor did not return calls seeking a comment Tuesday. Neither did the attorney for Spierer's boyfriend, who has also been questioned.
Though Qualters had said that he hoped to have a timeline or enhanced surveillance camera video available for the media on Tuesday, neither was yet complete. The FBI is working on enhancing video that he said appeared to show one vehicle driving twice down a "not heavily traveled street" around 4:15 a.m. on June 3.
On Monday, Qualters stopped short of describing it as a "vehicle of interest" or "suspect vehicle," but, given the timing and the proximity to where Spierer was last seen, police are "curious" about what the driver may know. He declined again on Tuesday to release details about the vehicle.
He called the vehicle "another piece of the puzzle that needs to be answered," but he emphasized that police do not know if it is related to the case at this point or even if it is one vehicle or two similar ones.
Interviews with "second tier" subjects like family members and other friends will continue Tuesday, and Qualters said police have gotten "no resistance whatsoever" from those individuals. He cautioned against focusing on the number of "persons of interest" in the case because that figure changes daily, but he said he believes investigators have at least had a primary interview with everyone they wanted to speak to.
According to Qualters, an expert working with the National Center for Missing and Exploited Children is providing "yet another fresh set of eyes" on the case. A new search for Spierer will include trained personnel who will spread out in quarter-mile increments from the location where she was last known to be, he said.
Robert and Charlene Spierer, Lauren's parents, also spoke to the media Tuesday. Robert Spierer said that because of forecasts of bad weather for Wednesday, "we're going to search very aggressively today."
On Tuesday, Spierer's school created a $50,000 fund to help with search costs, according to Indiana University's website.
More than 1,000 volunteers a day have taken part in search efforts, the website said.
Charlene Spierer, who described Lauren as "a sweet, bubbly girl," thanked the family's supporters and said she was trying to remain hopeful.
"I start every day thinking today will be the day, and I go to sleep every night knowing that I have failed and that I haven't done enough," she said.
"I love you, Lauren," she added. "I'm ready for you to come home."
Spierer's family is offering a $100,000 reward for information leading to her recovery.
FOLLOW THIS TOPIC