Congressman's nephew killed in Virginia shooting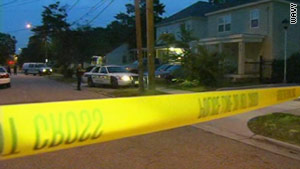 An apartment near Old Dominion University in Norfolk, Virginia, was the scene of Friday's fatal shooting.
STORY HIGHLIGHTS
The nephew of U.S. Rep. Elijah Cummings of Maryland is killed in a shooting
Crime has been a concern in the area around Old Dominion University
Check out CNN affiliates WAVY-TV and WBAL-TV for more information.
(CNN) -- The nephew of U.S. Rep. Elijah Cummings of Maryland died in a shooting in Norfolk, Virginia, the congressman confirmed in a statement.
The nephew's roommate was also critically wounded in the shooting Friday at an apartment near Old Dominion University, CNN affiliate WAVY-TV reported, citing police.
The shooting happened weeks after the nephew, Christopher Cummings, tried to chase down a would-be robber in May, Cummings told CNN affiliate WBAL-TV. Threats apparently followed that incident, Cummings said.
"He was definitely in fear," Cummings said in an interview with the station.
Rising crime has been a recent concern near the school as University President John R. Broderick acknowledged in a letter to the campus community.
"We have hired additional officers, enhanced the lighting in the garages, and installed more "blue light" emergency phones. Work is under way on significantly increased use of video surveillance and a campuswide review of lighting," Broderick wrote.
"We will also continue to urge city officials and landlords on additional safety measures for the off-campus neighborhood where this and other crimes occurred this semester."
The Maryland Democrat told WBAL that his nephew was a rising junior at Old Dominion with a promising future.
"He was the kind of kid who most people would say, 'Boy, I wish I had him for a son or a son-in-law,' " Cummings said.
Christopher Cummings' father, the congressman's brother, is a survivor of the September 11 attack on the Pentagon.
FOLLOW THIS TOPIC