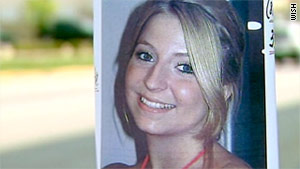 Police say they have no suspects in the disappearance of 20-year-old Lauren Spierer.
STORY HIGHLIGHTS
Police deny woman was involved in an altercation at the time she disappeared
Police spokesman says there are no "great revelations" in the Lauren Spierer case
Spierer, 20, was last seen early June 3 in Bloomington, Indiana
Spierer's case is generating significant attention on Twitter and Facebook
(CNN) -- Social media sites are buzzing and a $100,000 reward is now being offered in the case of missing Indiana University student Lauren Spierer, amid reports of a fight involving a man who was with Spierer outside her apartment building when she disappeared Friday.
Police said adamantly and repeatedly Thursday that Spierer was not involved in an altercation.
"That's all I'm going to say," Bloomington Police Department Lt. Bill Parker added as he deflected all other questions about the alleged incident.
For the third day in a row, Parker said that he had no "great revelations" to share about the case and no suspects in the 20-year-old Indiana University student's June 3 disappearance. Although the police do have persons of interest, he declined to say exactly how many, and he also would not say how many polygraph tests have been given.
Spierer was last seen leaving an apartment building a few blocks from her home about 4:30 am Friday, according to police. Police have confirmed through security camera video that she had returned from Kilroy's Sports Bar in Bloomington to her building at Smallwood Plaza briefly about 2:40 am with someone, but they left about 10 minutes later.
Parker revealed Thursday that they now have additional video footage of Spierer and the other person "making their way" from Smallwood to the building where she was last seen. He declined to characterize her demeanor in the video or provide any additional details. The second building does not have security cameras.
Kilroy's Sports Bar is being investigated by Indiana State Excise Police, a direct result of Spierer's disappearance.
The investigation will try to establish whether Spierer had a false ID or whether it was checked, whether she was served alcohol in the establishment and, if so, whether she was intoxicated at the time, according to Officer Travis Thickstun.
The investigation could take hours or months, depending on where investigation leads and what the officers find, Thickstun said.
An attorney representing the man who was with Spierer at the time told the Journal News of Westchester County, New York, that somebody punched his client in the face during a confrontation at Smallwood. Attorney Carl Salzmann reportedly claimed that his client has no memory of the rest of the night after that or the 15 minutes leading up to it.
Calls to Salzmann on Thursday were not immediately returned.
According to the Journal News, Salzmann said that Spierer helped his client home after that incident and that he was not the last person to see her that night.
Spierer's case is generating significant attention on social media websites Twitter and Facebook as members try to spread the word about her disappearance.
The Twitter handle @NewsonLaurenS has more than 13,000 followers, with tweets including the hash tag #FindLauren. Celebrities including Wyclef Jean, Ryan Seacrest, Blake Shelton and Elisabeth Hasselbeck have tweeted messages of support encouraging their followers to spread the word about Spierer.
More than 180,000 people are "attending" the Facebook event "URGENT! Please help spread the word about Lauren Spierer's disappearance!"
The Hillel House at Indiana University has posted search information on its website, according to her father, Robert Spierer.
Search efforts continued Thursday at Lake Monroe after dive teams searched the area Wednesday, based on an anonymous tip that Parker said was "very specific." No evidence was found.
Parker said some of the persons of interest have retained attorneys, but they are still generally being cooperative. Police are planning to execute additional search warrants, though Parker would not provide any details about those.
Asked whether police have a better idea of what happened to Lauren Spierer than they did five days ago, Parker responded, "I would have to say no."
Robert Spierer confirmed reports that the family is offering a $100,000 reward for information leading to his daughter's return.
He again thanked the police and volunteers for their help, saying that "it's critical that we get the manpower out there to look for Lauren." He also asked that owners of farms and large properties in the area check their fields, woods and sheds for evidence, and he asked residents of Bloomington to check their garages.
Robert Spierer asked anyone with information to contact Bloomington police at 812-339-4477. The National Center for Missing and Exploited Children is working with the police as a resource.
FOLLOW THIS TOPIC