Chicago man convicted in Denmark plot, acquitted in Mumbai plot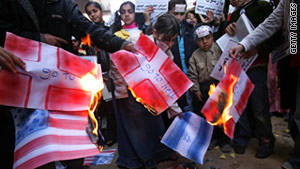 Protesters burn the Danish flag. Tahawwur Hussain Rana was found guilty of aiding a plot against a Danish paper.
STORY HIGHLIGHTS
NEW: Tahawwur Rana faces a maximum sentence of 30 years in prison
NEW: U.S. is committed to justice for those who "facilitate" terror, official says
NEW: Jury "got it wrong," Rana's attorney says
The defense argued Rana was an unwitting victim of his friend David Headley
Chicago (CNN) -- Jurors found Chicago businessman Tahawwur Hussain Rana guilty on two counts of aiding a terrorist organization, but acquitted him on a charge connecting him to the 2008 Mumbai terror attacks in India.
Rana was convicted on one count of conspiracy to provide material support in a planned attack against a newspaper in Denmark. He also was found guilty of providing material support to the Pakistan-based militant group Lashkar-e-Tayyiba.
He faces a maximum sentence of 30 years in prison on the two counts combined, and remains in federal custody without bond, according to the Justice Department. U.S. District Judge Harry Leinenweber ordered the defense to file post-trial motions by August 15. No sentencing date was set.
David Coleman Headley, the government's star witness against Rana, pleaded guilty last year to terrorism charges related to the Mumbai attacks and was sentenced to life imprisonment.
Headley testified that Rana, 50, knew about the scouting trips to India to plan the Mumbai attacks, which were carried out in November 2008 and left more than 160 people dead. In acquitting him on the charge involving Mumbai, the jurors signaled that Headley's testimony hadn't swayed them.
Headley also said he and Rana were involved in planning another plot to bomb the offices of Jyllands-Posten, the Danish newspaper that had published irreverent cartoons of the Prophet Mohammed in 2005. The cartoons prompted angry demonstrations and violence in much of the Muslim world.
The jury found Rana guilty of helping to plot that attack, which was never carried out.
Rana and Headley were among a total of eight co-defendants who have been indicted in the case since late 2009, according to the Department of Justice. The other six are all believed to be in Pakistan.
"Today's verdict demonstrates our commitment to hold accountable not only terrorist operatives, but also those who facilitate their activities," said Todd Hinnen, acting assistant attorney general for national security. "As established at trial, Tahawwur Rana provided valuable cover and support to David Headley, knowing that Headley and others were plotting terror attacks overseas.
"We will not rest in our efforts to identify and bring to justice those who provide support to terrorists."
During the eight-day trial, the defense argued that Rana had no idea what Headley was up to, and that Headley was lying to avoid the death penalty.
Rana, who has been in custody since his arrest on 2009, sat motionless as the verdict was read. Afterward, defense attorney Patrick Blegen said he was "extremely disappointed" that Rana was convicted on any counts.
"We don't get to be back there for the (jury) deliberations so we don't know how they came to their decision," Blegen said. "We believe Mr. Rana and we believe he was not guilty. The jury came to another decision, we respect their decision but we think they got it wrong."
CNN's Randall Samborn contributed to this report