Delaware pediatrician goes on trial for alleged sex abuse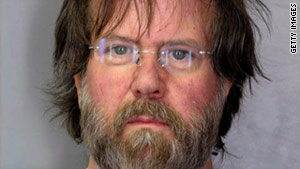 Earl Bradley, 58, waived his right to a jury trial and was tried before a judge, according to court officials.
STORY HIGHLIGHTS
NEW: Judge will issue ruling at a later date
Pediatrician accused of rape, forcing oral sex on children under the age of 6
Earl Bradley is accused of molesting 103 patients
Prosecutors say Bradley abused patients from 1998 to 2009
(CNN) -- A judge heard evidence Tuesday at the one-day bench trial of a Delaware pediatrician accused of molesting 103 of his patients, some of them 5 or younger.
Judge William C. Carpenter, hearing the case against Earl Bradley, 58, advised attorneys he will issue his verdict later, court officials said.
Bradley, whose practice was in Lewes, went into the trial facing 529 counts of rape, sexual exploitation of a child, unlawful sexual contact and other charges.
Prosecutors filed an amended indictment on Tuesday condensing the charges against Bradley into 24 counts. There were no new victims or incidents alleged in the new indictment.
The charges accuse Bradley of first-degree rape, forcing girls to perform oral sex on him and filming dozens of the children engaging in sex acts.
Bradley waived his right to a jury trial and was tried before Carpenter, according to court officials in Georgetown, Delaware.
Pediatrician accused of raping patients waives right to jury

2010: Pediatrician accused of abuse
Police officers and detectives, but not any of the alleged victims, testified Tuesday.
Evidence is based on videos seized from Bradley's home and office, Delaware Attorney General Beau Biden has said.
In April, Carpenter ruled against a defense motion to suppress. Public defenders challenged the scope of a search warrant used to acquire videotape evidence from two buildings.
Prosecutors would have no comment on the proceedings because of a gag order, state attorney general's spokesman Jason Miller said.
Bradley's attorneys called no witnesses nor made closing arguments at the trial, according to CNN affiliate WBOC. CNN left a message with public defenders.
Police arrested Bradley in December 2009.
All but one of the 103 patients he is accused of abusing are girls, some as young as 2 years old. The alleged abuse occurred between 1998 and 2009, according to the indictment.
CNN's Phil Gast contributed to this report.
FOLLOW THIS TOPIC