Police: Mistaken identity may have triggered gun death of infant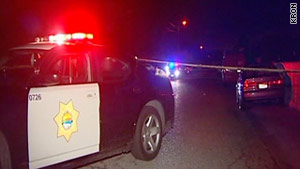 Two people opened fire on a family driving home from a baby shower shortly after midnight Sunday.
STORY HIGHLIGHTS
Police arrest suspect in the shooting and detain a second "person of interest"
Triple-shooting seriously injures the mother and father but the other son is unharmed
Slain infant's mother tells parents of suspects to pay more attention to their children
(CNN) -- A California teen accused of taking part in a triple-shooting that killed a 3-month-old boy -- an act police now believe may be a case of mistaken identity -- is expected to make his first court appearance Tuesday, an East Palo Alto police official said.
Police Capt. Jeff Liu said authorities are not releasing the 17-year-old suspect's name because he is a minor. Police also have not named a second "person of interest" in the case because he is 16 years old.
The 17-year-old has been arrested on suspicion of murder; the other teen is being held on weapons charges, Liu said.
Two people opened fire on a family driving home from a baby shower shortly after midnight Sunday. Three-month-old Izak Jesus Jimenez Garcia was killed, while his father and mother suffered serious, but not life-threatening, wounds.
The infant's 4-year-old brother, who was also in the car when the shooting occurred, was not harmed, according to authorities.
Liu said the gunmen opened fire on the vehicle in a case of mistaken identity in retaliation for a gang beating a week earlier.
"What we understand is that on May 31st in Redwood City there was an altercation between the Sureno street gang and the individual we have arrested," Liu said. "During the altercation, the suspect was beaten up. The suspect saw two individuals on Wisteria who he believed were in Redwood City (and took part in the beating)."
"Arming himself and with an accomplice, they went to Wisteria believing those two individuals were in the car."
The child's mother, Ivonne Garcia Lopez, repeatedly wept as she recounted the ordeal at a Monday news conference. Lopez told reporters that, the moment she heard gunfire, she covered her older son with her body.
Lopez said she then reached for her other son.
"I took him out of the car seat and he had a hole in his head," said Lopez, bursting into tears. "They (the gunmen) destroyed my family. They killed my baby and killed part of my soul too."
"He was such a precious angel, my little angel. He was my everything, and I was really happy to have him in my life," Lopez said. "Today my (other) son still has flashbacks of it."
Lopez also had a message for the parents of the alleged killers of her child.
"Pay attention to them (your children)," Lopez said. "Give them love because if they don't do it, they'll find it on the streets and they hang out with the wrong people and they end up being killed ... destroying families."
FOLLOW THIS TOPIC