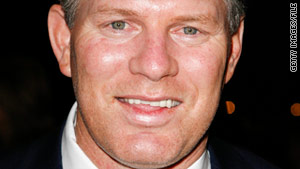 Lenny Dykstra was charged with allegedly leasing cars with phony business and credit information.
STORY HIGHLIGHTS
NEW: Lenny Dykstra is jailed with bail set at $500,000
Dykstra played for the New York Mets and the Philadelphia Phillies
He and two co-defendants were charged Monday by the Los Angeles District Attorney
Charges include allegedly leasing cars using phony information
Los Angeles (CNN) -- Lenny Dykstra, a three-time major league All-Star outfielder who played for the New York Mets and the Philadelphia Phillies, was charged Monday with multiple counts of allegedly leasing cars using phony businesses and credit information, and with drug possession, the Los Angeles District Attorney's office announced.
At a court hearing Monday, Dykstra was taken into custody and jailed, with bail set at $500,000.
According to the complaint, Dykstra, 48, and two co-defendants -- Robert Hymers, 27, his accountant and friend; and Christopher Gavanis, 30, a friend -- are accused of trying to lease various luxury vehicles from several dealerships by providing fraudulent information and claiming credit through a phony business called Home Free Systems.
None of the defendants could be reached for comment Monday, and it could not be determined whether they had retained attorneys. Dykstra's attorney in a pending federal case told CNN he no longer represents Dykstra, and representatives at the public defenders' office told CNN none of the three defendants had retailed public defenders.
At two dealerships, Dykstra and Hymers allegedly provided information from a man they claimed was a co-signer but who had not authorized his name to be used, the complaint alleges. Leases were not approved at two dealerships and all three men allegedly drove off with three cars at one company without lease approval, said Deputy District Attorney Alex Karkanen, with the office's Auto Insurance Fraud Division.
When Dykstra was first arrested in April, Los Angeles police detectives investigating the case executed a search warrant at his Encino home and allegedly found cocaine and Ecstasy along with Somatropin, a synthetic human growth hormone.
Dykstra was charged Monday with five counts of attempted grand theft auto, eight counts of filing false financial statements, four counts of identity theft, three counts of grand theft auto and three counts of possession of a controlled substance. All are felonies.
In addition, he is charged with one misdemeanor count each of possession of a controlled substance without a prescription and unauthorized possession of a syringe.
If convicted, Dykstra could face up to 12 years in state prison.
In a separate case, Dykstra was indicted in May on federal bankruptcy fraud charges including obstruction of justice, for allegedly taking more than $400,000 in property that should have gone to his creditors, then lying about it under oath, prosecutors claim.
In the federal indictment, Dykstra is accused of stealing, hiding and destroying items such as chandeliers, artwork, and sports memorabilia from his repossessed $18 million Ventura County mansion. His attorney, Mark Worksman has characterized the federal case as "a scorched-earth bankruptcy proceeding" and blamed the auto-related accusations as a "vendetta" by former caretakers.
Dykstra had remained free on $150,000 bond in the federal case.
FOLLOW THIS TOPIC