Strauss-Kahn defense to request material from prosecutors, source says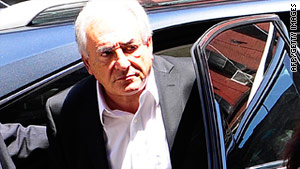 Dominique Strauss-Kahn faces seven charges, including criminal sexual acts and sexual abuse.
STORY HIGHLIGHTS
The defense will make a formal request in writing on Monday
Dominique Strauss-Kahn will plead not guilty at an arraignment, a source says
He is charged in an alleged sexual assault on a hotel employee
New York (CNN) -- Defense attorneys for Dominique Strauss-Kahn, the embattled chief of the International Monetary Fund, will formally request discovery materials from Manhattan prosecutors on Monday, according to a source close to the case.
Strauss-Kahn, once considered a front-runner in the French presidential race, faces seven charges, including criminal sexual acts and sexual abuse, in connection with an alleged May 14 sexual assault of a housekeeping employee at New York's Sofitel hotel.
On May 26, the defense requested copies of scientific reports as well as police reports and formal statements made by the hotel employee, complaining that some of that information had already been leaked to the media.
"Our client's right to a fair trial is being compromised by the public disclosure of prejudicial material even before these materials have been disclosed to counsel," Strauss-Kahn's attorneys said in a letter to the judge presiding over the case. They said if they chose to, they could "release substantial information that in our view would seriously undermine the quality of this prosecution and also gravely undermine the credibility of the complainant in this case."
In response, Manhattan Assistant District Attorney Joan Illuzzi-Orbon wrote in a letter that the request for the materials would be addressed if the request was made in writing.
The source said the request will be filed on Monday, and that Strauss-Kahn is expected to plead not guilty at an arraignment the same day.
Illuzzi-Orbon told the defense she agreed with the need to safeguard information from leaks, but was "troubled that you chose to inject into the public record your claim that you possess information that might negatively impact the case and 'gravely' undermine the credibility of the victim." If the defense does possess such information, it should be forwarded to prosecutors, she said.
Strauss-Kahn was released from jail on bond, but is under house arrest in a luxury townhouse in New York's Tribeca neighborhood, according to a source with knowledge of his whereabouts. Strauss-Kahn is under court-ordered watch as part of the terms of his $6 million bail agreement, and must pay for 24-hour armed guards posted at the door, as well as electronic surveillance.
CNN's Ross Levitt and Susan Candiotti contributed to this report.
FOLLOW THIS TOPIC